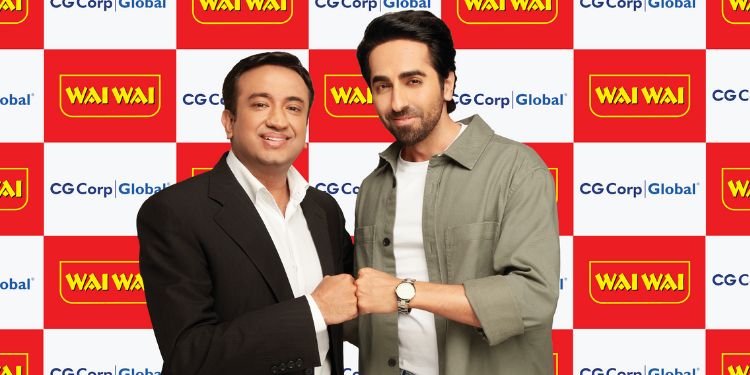 Ayushmann Khurrana Joins WAI WAI as Brand Ambassador
CG Corp Global's FMCG division, CG Foods, known for its popular noodle brand WAI WAI, has exciting news to share with its fans. The company recently partnered with the versatile Bollywood actor, Ayushmann Khurrana, who will now serve as the brand ambassador for WAI WAI. This collaboration comes with the theme and tagline "WAI WAI Wala Taste," to celebrate the unique flavours, tastes, and seasonings that have made WAI WAI a beloved choice among noodle enthusiasts.
Ayushmann Khurrana, a talented actor known for his diverse roles and relatability, expressed his excitement about this association. He shared, "It's an absolute pleasure to be associated with a youth-facing brand like Wai Wai. What sets it apart is the vibrant and diverse range of products it offers. From an array of exotic noodles catering to every taste, region, and preference, the brand lives up to its name."
Varun Chaudhary, the Managing Director of CG Foods & CG Corp Global India, also expressed his enthusiasm for this collaboration. He stated, "Collaborating with Ayushmann Khurrana was my top priority, and I am delighted that we have joined forces in such a short time. This partnership comes at a critical moment when my vision for the brand includes not only exponential growth in sales but also the establishment of deep connections with WAI WAI fans across the country. India is an important market for us, and I am dedicated to ensuring that WAI WAI attains a leadership position with its roots deeply entrenched in India."
WAI WAI has recognized the importance of connecting with the younger generation, which includes teenagers, young adults, and working professionals. As the brand that pioneered the production of pre-seasoned noodles, also known as Brown Noodles, WAI WAI is poised to make significant waves in the market.
One of the exciting developments on the horizon is the introduction of a new line of 2X Spicy noodles under the sub-brand 'Dynamite.' With Ayushmann Khurrana on board as the brand ambassador, WAI WAI is gearing up to launch a comprehensive marketing campaign that is expected to strongly resonate with today's youth.
As the WAI WAI brand continues to innovate and expand its product offerings, the partnership with Ayushmann Khurrana symbolizes a union of great taste, quality, and relatability. It's a collaboration that is sure to capture the hearts and taste buds of consumers across the country and reinforce WAI WAI's position as a beloved brand in India's food landscape.