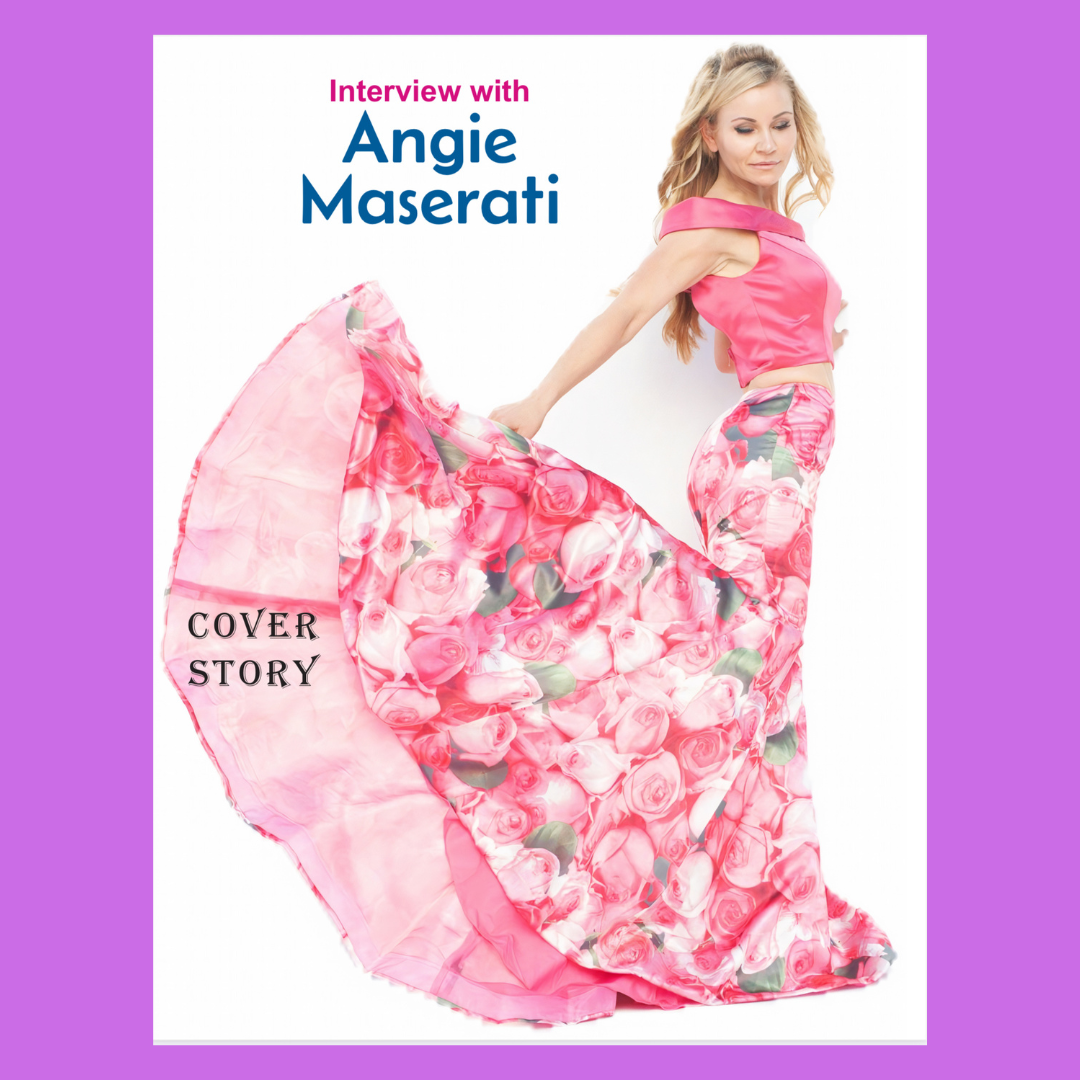 Singing From The Heart: Angie Maserati's Inspiring Journey
I recently had the pleasure of sitting down for an interview with the talented singer, Angie Maserati. As she appeared on the screen, her infectious smile and warm-hearted presence immediately set the tone for a captivating conversation. Angie is not only a gifted artist but also a wife and mother, balancing her multifaceted life with grace.
During our interview, Angie's passion for music was palpable as she sang and shared her inspiring stories. Her genuine love for what she does shines through, making her a truly fabulous human being. In this interview, we get to know Angie Maserati, the artist, and the person behind the music.
Hello Angie, tell me about yourself.
I instantly think of the lyrics from my album's title song "Love". "I'm a lover and I'm never gonna change". Of course, change is inevitable but the song goes on to express, "crazy world but I'm still gonna stay the same" meaning; I will remain an unarmored and open being. I live for the joy of it, the fun and the compassion and depth. I am thrilled by loving people, inspiration, creation, freedom, the stage, philosophy, and growth. What I am not, are "labels" . It's hard to describe who you are without them though right?! I love a challenge so I will do my best! Haha!
Where are you from and where do you live?
I was born in Minnesota, and grew up spending summers there, and winters in the state of Washington; my parents divorced when I was a baby. It was hard at times growing up and missing the other parent, but I had my amazing sister Terri by my side, and it helped that my dad was awesome at writing letters and calling weekly. I felt close to both of my parents regardless and loved. As an adult I can see how it had a very positive effect on my life. I know that love is about connection near and far. I have been living in the San Francisco Bay Area for years now and I love it! I absolutely love California! "California Dream'n" is a real thing and the vibes are very much alive! The people are amazing, progressive, and inclusive. All lifestyles and cultures are welcome here and it's truly beautiful. I can't imagine living anywhere else, OK; I could see myself with a NYC apartment and what the heck one in Rome too! haha For me it's about life and "the experience" and these cities hold so much opportunity for adventure as well.
What do you like to do in your spare time?
I have enjoyed working out my entire life. My childhood home life was the "walking on eggshells" type. I didn't know I was working out to relieve stress, but I was. I would run after school or slip in a Jane Fonda video and feel great after. I like how it makes me feel! Also, I can perform with ease, balance, and plenty of breath support to hit those big notes! I love spending time with my family, my husband, 3 boys, and my 2 fur babies. Nature is my mother and to hold a cup of coffee while the sun rises feels like heaven. I live in Livermore wine country and enjoying local wine with friends and family is pretty heavenly too.
Can you tell us a little bit about your journey?
I have felt the music in me for as long as I can remember. The curiosity of what that was exactly, led me down the path of growth and discovery. I would memorize songs and perform for my family. My hairbrush was my first microphone and my sister was my first band member on air guitar. Our high-energy concerts down the hall from mom's room got us in trouble more than a few times. The joy I felt singing created a desire in me to learn more and master my vocal talents.
I became inspired to write songs in my 20's. I realized how therapeutic and thrilling it is to write your thoughts into existence. I write love songs because the gift of performing them over and over allows me to relive that love over and over and feeling love never gets old. When I am on stage singing and connecting with people, I have no problems in the world. It's amazing to feel so full of purpose and peace.
I have had the pleasure of performing all over the Bay Area for thousands of people. The opportunities are many with festivals and summer concert series in almost every community! We have hundreds of wineries, clubs, restaurants, and the Silicon Valley corporations, all hiring live music! I have massive gratitude for every show that I am blessed with, I don't take anything or anyone for granted. It is just too precious.
If you had to describe yourself in 3 words what would they be?
Love, spirit, presence
Love because I see love in existing. The pleasure and the pain. Growth is love.
Spirit because I see(feel) the living spirit in people. The physical is just a sounding board for the life inside.
Presence because that is where love and peace live.
What inspires you?
Experiences that make me feel so alive and completely tuned into the moment. When that energy ignites a fire in my soul and a knowing that I will never be the same. They live on in you forever. I welcome it.When you listen to my songs you will hear lyrics that describe these moments. Words like; love, desire, fire, passion, dancing, touching, surprise, unconditional, whisper, kiss…my music will have you feeling good! That is a Maserati guarantee! Haha!
How did I get into writing?
I am a poet, writing from my inspired feelings. The process of creating the finished song allows me to work with talented producers and musicians. Peter Michael Escovedo has produced several of my latest songs. I feel so understood when I work with him. I also feel safe. I took an almost 15-year break from writing. Not on purpose! Firstly I just gave so much of my time and energy to my cover band and it fed me enough, so I thought, and secondly, the belief that putting my own music out started to slip away! Why? Because I started to believe the big fat lie of ageism! I became inspired to write again in 2016.
Can you tell us what inspired your album?
I took my first-ever trip to NYC in 2016. I was by myself, meaning without my family and in a matter of hours I remembered the passion I have in me to create! "The Concrete Jungle Where Dreams Are Made of" is more than Alicia Keys's lyrics, it is my testimony! I had my reawakening! With my soul ablaze with inspiration I began writing songs again on the trip. The very first is called "Gentleman" and it is on my album "Love" along with several others inspired during this time including "NYC" my homage of gratitude for the city that woke me up and changed my life forever! I have to give credit to my friends who nudged and planted seeds all along the way, believing in me when I didn't. True friends will always encourage the best from you and are never threatened by your success.
Are you working on anything at present that you would like to share?
I have many more inspirations to share, some already written and some still inside of me. I had begun a song for my sister called "Fun" but I have it on hold for now. I lost her to cancer in March and it has been the most heartbreaking experience of my life. Her love has always surrounded me and I can still feel her love, I just really miss looking into her eyes and seeing her smile. I was by her side through the suffering and uncertainty. Grieving her suffering and the suffering of losing her. I just need to give myself time and grace.
What are your goals and aspirations?
My focus, for now, is to perform, I am looking for a manager to help facilitate booking. I would like a top-talent touring band to rock the world with me. I dream of performing on the European music festival circuit.
I am so grateful for this life. I have known and experienced so much love. Life is a mirror and it has reflected in my life with an undeniable purity and purpose. There will be ebb and flow, and with love at the wheel, the path will lead to joy.
Where can we find you online?
https://www.angiemaserati.com/
On Instagram @angiemaseraimusic