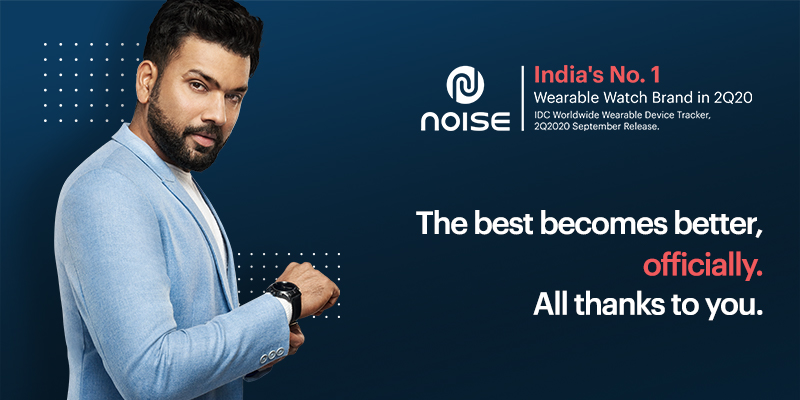 Noise Becomes India's No. 1 Wearable Watch Brand
~As per a new report for 2Q 2020, the leading Indian lifestyle gadgets brand Noise has been named no. 1 in the segment this quarter~
New Delhi , September 28, 2020: Noise, the Gurugram based Indian lifestyle gadget brand by Nexxbase – known for its smart wearables and personal audio devices has been ranked India's No. 1 wearable watch brand of the 2Q 2020 (April-June) quarter with the market share of 25.6%. The ranking is based on unit shipments during the quarter according to the IDC Worldwide Wearable Device Tracker for its 2Q 2020 September Release.
The update comes at a time when there has been a massive and visible shift in consumer behaviour towards personal tech accessories. With people confined to their homes because of the pandemic, they have become more aware and pickier when it comes to finding the best ways to stay fit and updated. In such a scenario, personal wearables come handy in helping them track their fitness as well as personal/work notifications. Noise has successfully been able to cater to this segment with its multiple SKUs, including the bestseller ColorFit Pro 2 and the recently-launched ColorFit Nav.
On the occasion, here's what the founders had to say: "We are proud at the achievement and even more determined to get the best of technology for our consumers. With new innovations, we are all set to match the rapidly-changing world and the requirements it will bring along the way." – Gaurav Khatri, CEO
"On this occasion, I sincerely want to thank our consumers for loving us and our offerings. We promise even better experiences ahead." – Amit Khatri, Managing Director
The future seems bright for the brand as it plans to build its portfolio bigger and better with a lot of new launches lined up for what remains of 2020. For the year 2021, the brand is all set to achieve the 500-crore mark, and targeting a projection of 1000 crores by 2024. With aggressive marketing efforts and expansion via partner ecommerce websites, it doesn't seem like an impossible feat to achieve.
About Noise:
Noise's Colorfit series houses affordable smartwatches for the masses which include the Colorfit Pro and Colorfit Pro 2 starting from Rs 2,499. Noise also has a premium range of round-dialed wearables under the 'Noisefit' label, which includes Fusion, Evolve and Evolve Sport, starting from Rs 5,499. Check out the entire range of smart wearables from Noise on www.GoNoise.com
Noise is a lifestyle technology Indian brand that was founded to make everyday tech products available and accessible to the bold, energetic youth of new India. We live to help the latest technology reach the people around us, every day.
The Gurugram-based brand was founded by Amit Khatri and Gaurav Khatri, in 2014. Noise has an impressive line-up of products in the Smart Wearables and Wireless Earphones categories. As per a recent report published via reputed global industry analysis firm Counterpoint Research, Noise is the second most sold brand for truly wireless (TWS) earphones in 2019 in India. Noise has been listed as one of the top brands on Amazon and Flipkart for four years in a row.
For more information, please visit:
Website: www.gonoise.com
Instagram: https://www.instagram.com/go_noise/
Facebook: https://www.facebook.com/gonoise/
Twitter: https://twitter.com/gonoise
LinkedIn: https://in.linkedin.com/company/gonoise-com