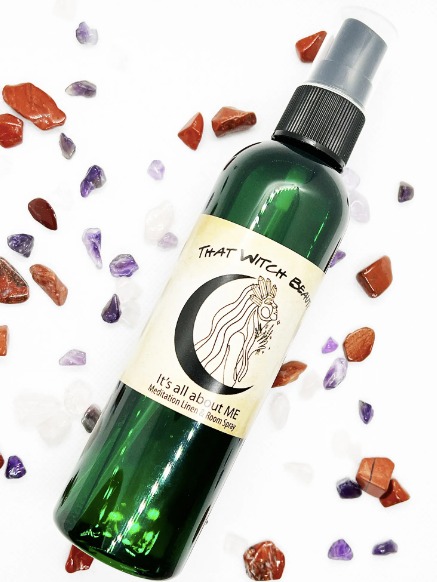 Meet That Witch Beauty, The Skin Care Beauty Line For All Things Self-Love and Anti-Aging
"Be Fierce." Be ruthless. Unapologetically be yourself." Kitsie Duncan's self-care cosmetics collection is now available online. That Witch Beauty's collection includes products designed to assist others in discovering self-love and the wonder inside.
Made her home in Indiana, Kitsie makes each batch by hand. She takes great pride in her work and thoroughly tests everything she develops on herself and others before exposing it to the public.
Kitsie Duncan's decision to launch "That Witch Beauty" and sell her items was based on time. She'd recently left her employment as a photographer and had previously produced and edited a season of Paranormal X Road. When the season ended, she had the concept for the brand and told a friend, "You know what, I'm simply going to do it." She went home that day and started working on Glamour Glow, Hair Magic, and Wake Up Witch. She applied all of the products to herself and saw a substantial difference.
Upon purchasing products from That Witch Beauty, the user experience is encouraged to set their own intentions for self-love and acceptance utilizing all natural products, moon charged water (in most cases), and crystals, as well as offering more self-love for each customer. "The world is a wild place, and many of us lose sight of who we are." Kitsie explains, "I think it's time we ALL get to know ourselves a bit better, beyond the everyday routine, who we are, what we genuinely want for ourselves, and how we can let go of the fear that's holding us back."
Each item is either a personal preference of Kitsie Duncan or a desire for something better, cleaner, and more "magical" than what is currently available. Kistie reminds us that "magic" ideas might arise out of nowhere at any time. Kitsie explored nearly every anti-aging and cosmetic product on the market before launching her company. "That Witch Beauty" products are superior to anything else on the market, with plenty of evidence to back it up.
That Witch Beauty recently launched its meditation room and linen spray called "It's All About Me" with essential oils to help promote calm, opening up our intuition, and grounding, with crystals for the same purpose. The scent is a spiced citrus that alerts your senses all while encouraging focus and grounding. Also just released is "Moody Magic", a mood boosting, anti-aging shower and bath gel.
If you're looking for a complete set, "The OURS collection" is a face skin care regimen that Kitsie spent a long time perfecting. She needed something that was anti-aging, collagen-boosting, and gender-neutral. And that is exactly what this compilation is. With essential oils, you may not only slow down but even reverse the aging process.
"Checked Baggage" an under eye serum that may be used under and over makeup all day, is one of Kitsie's The Witch Beauty brand faves. It not only tightens up the skin beneath your eyes, but it also hydrates and removes persistent puffiness, which helps with weary eyes. It also smells fantastic. The "Love Potion 9.0" is another of Kistsie's favorites. This is a roll-on scent that contains gender-neutral pheromones and provides a mood boost to anybody who wears or smells it. Cherry Blossom and Sweet Tobacco notes are added.
The skin-care genius Kitsie is into witchcraft. The study of witchcraft taught Kitsie not to be afraid to be who you really truly are, the energy you put out there comes back even better than you imagined, and that there is magic and beauty in the unknown.
To get your hands on some of your own That Witch Beauty products visit thatwitchbeauty.com