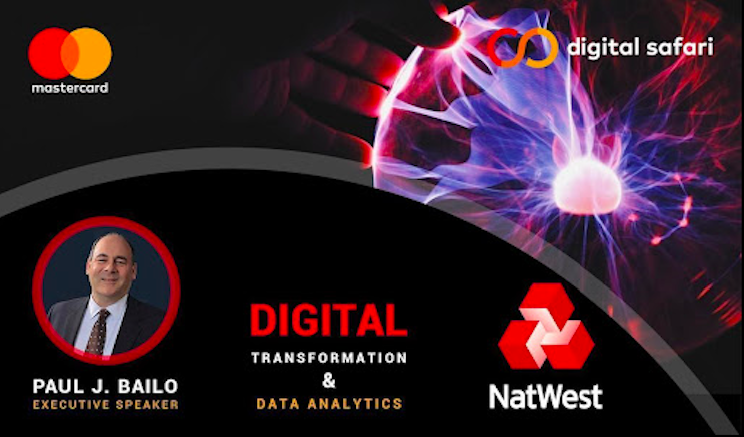 Paul J. Bailo Shares His Views On Digital Transformation at the MasterCard Virtual Digital Safari
Paul J. Bailo, Executive, Digital Strategy and Innovation, and one of the leading speakers at the MasterCard Digital Safari, has enthralled the audience with his views on digital technology and its applications in the modern business world. He will be one of the top thought leaders at the Virtual Digital Safari, an immersive global inspiration program comprising leading-edge digital applications and examples of 'disruptive thinking' best practices.
"The Virtual Digital Safari, organized by Mastercard, provided a curated view of the global payments and technology landscape," says the spokesperson for the event. "Attendees heard the views of leading subject matter experts and innovation mavericks. The views expressed by the leading brains in digital innovations can help organizations re-imagine their digital transformation plans."
According to the spokesperson, some of the other topics covered dominate the Virtual Digital Safari include customer experience innovations, social shopping, China's new normal, digital banking and payments, future work, methodologies, and approaches.
Dr. Paul has stated in the past that leaders in a digitally enabled enterprise must have a re-look at leading a workplace where data is democratized, and decision-making is decentralized.
Dr. Paul believes that digital transformation provides a range of opportunities for organizations to boost efficiency and drive more significant revenue streams. However, many organizations are not taking advantage of the opportunities. This is happening primarily because of a lack of digital leadership.
Digital leaders must put in efforts to motivate the team and keep them engaged, according to Dr. Paul. Digital technology can help tackle the significant challenges if efforts are put in to understand it and leverage its benefits.
Dr. Paul, with proven expertise in various competencies, is among the most awaited thought leaders at the Virtual Digital Safari event. His views on digital planning processes and why it must begin with evaluating the existing setup and the changes needed have found wide acceptance amongst the digital business community.
Dr. Paul has expressed through various other platforms that bringing about a change in the existing business process can be challenging. Many businesses avoid doing it as it involves altering the core foundation of the business.
Dr. Paul is also of the view that the success of any digital transformation depends on choosing the right people to drive the transformation and being supported by the right leadership. Those with the right digital mindset can take others along. They can succeed in their efforts at transforming even large institutions.
The topics covered in the Virtual Digital Safari include leading trends, tools, and technologies that act as an inspiration for businesses. These tools can offer immediate insights into strategies and help organizations make the right technical choices for a digital transformation strategy.