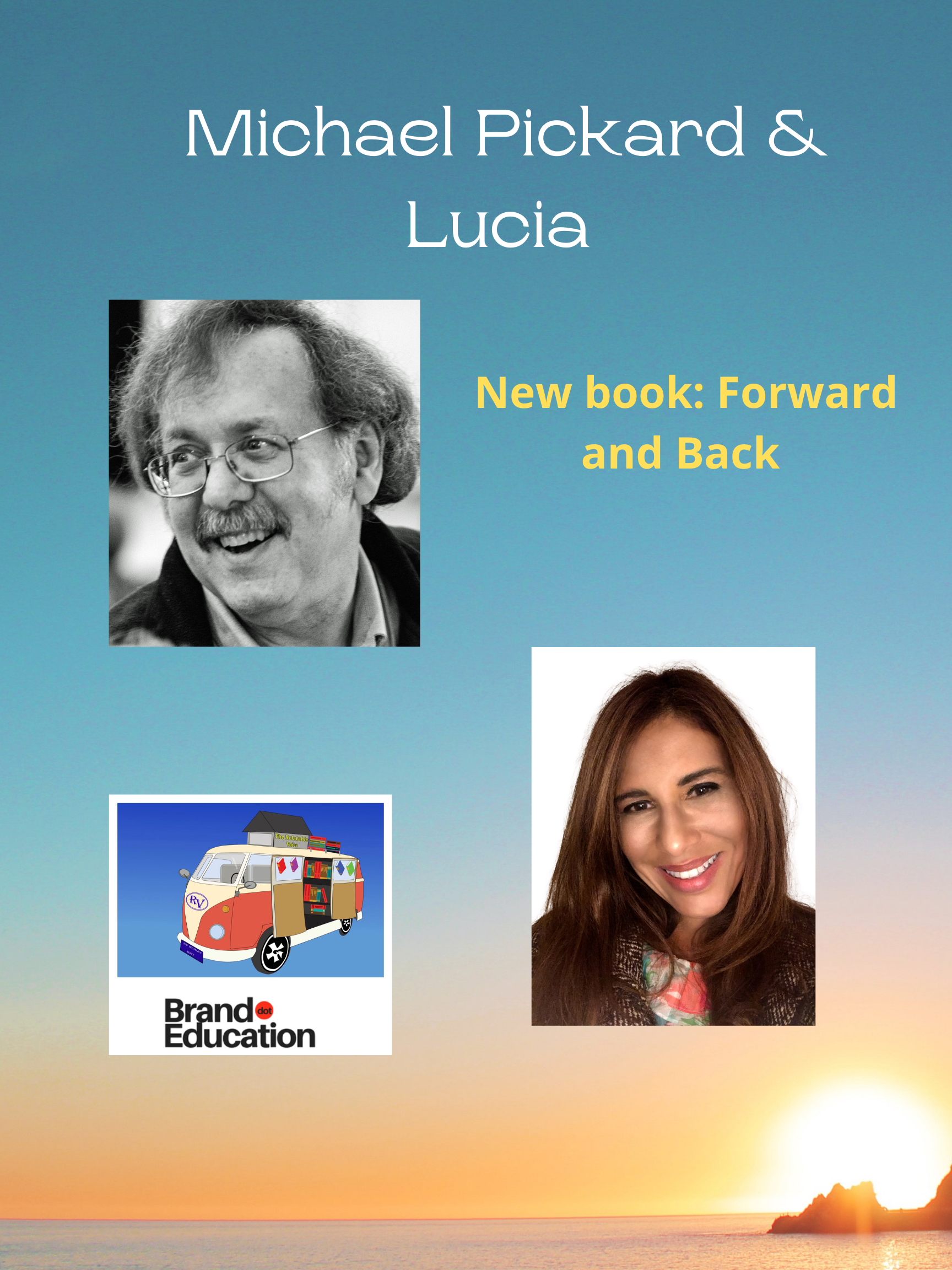 Michael Pickard is The Author Of The Week
We are back again with another episode of The Relatable Voice. The RV headed to Highland Park, IL to speak with Michael Pickard. Michael has a talent for reinventing himself and is now an author of novels and short stories. His book "Forward and Back" is launching on Wednesday, February 2, 2022.
Michael is a husband, a father, and a grandfather (G.Pa) to three precious G.Kids. Madison, Lucas, and Kayla. He used to have a heart but they stole it. He was born and raised in Chicago, Illinois and settled in Highland Park, a suburb about 30 miles due north of the city.
He's enjoying his third career as an author. In his spare time, he volunteers at the local high schools in a program called Grand Times, assisting teachers online and in classrooms. He judges at the Chicago Schools City Science Fair and at FIRST Tech Challenge robotics tournaments. He helps out at the local public library and acts as a resource for other writers who would benefit from his advice. His name is on 35 U. S. Patents. At Illinois Bell and Ameritech, the Midwest Baby Bell, a group called the Breakfast Club brainstormed ideas for interactive phone services that the company would patent.
Michael never would have guessed that he'd have a successful career in information technology after a disastrous first encounter with a computer while in high school. The students were supposed to learn the IITRAN programming language but he never got a single program to work. He was humiliated and vowed that one day he'd get revenge. In his freshman year at Northwestern University in 1967, he aced a college computer programming class. Being the master over the machine made him feel powerful. He knew at that moment that working with computer software was what he was born to do.
Michael is inspired by ideas. What is, what isn't, and what could be. He's at his best when he apply his imagination. In creative writing, that means deep fictional characters. The worlds they occupy, whether here on Earth or in outer space. Humans or aliens in all shapes, sizes, and materials.
Back in 1993, he started writing fiction when his daughter Samantha demanded that he write daily letters to her at overnight camp. Instead of sharing mundane activities, he mailed her chapters of a story she could relate to: an alien who came to Earth and attended overnight camp. Specifically, her camp. Those letters continued every summer at her request. After 5 years' worth of letters, he'd accumulated enough material for his first novel. With a printed book in his hand and his name on the cover, he couldn't stop writing.
After creating novels for many of science fiction's tropes, he tackled time travel. He named the protagonist Randy after his high school physics teacher who passed away in February 2020. In the novel titled Forward and Back, Randy pursues heavy protons designed to target and kill cancer tumors. He's worked under a grant for a decade with no results. On the morning of his final opportunity for a successful test, his pregnant wife goes into labor. He leaves her at the hospital only after she demands that he be present at this critical test. A snowstorm delays his arrival, one minute late. Because someone tampered with the experiment's settings, Randy is instantly teleported eight years into his future. He discovers that he's been declared dead by his wife, a stranger to his eight-year-old son, and a failure. Enemies threaten him for the secrets of time travel, but as a victim of his failed experiment, Randy is clueless. He needs to decide whether to invent a tool that could be used to corrupt history or refuse and see his wife and son murdered. The formal release of that novel is Wednesday, February 2, 2022, with a contest. If someone buys a copy of Forward and Back on that date and is the first person to identify where Michael violated his own time travel rules, he will reimburse the cost of the book. Responses are due by Wednesday, March 2, 2022, before midnight.
For variety, he's switched genres and is trying his hand at mysteries. He's working on a pair of novels with a Chicago Police Detective protagonist named Nick Chasm. One book is a dual murder, the second a dual kidnapping. His original plan was to write a standalone mystery, but his characters told me that the story was more complicated than he realized. Michael advises, "When your characters talk to you, you listen." As he planned the sequel, he realized that the story arc requires a third book, which is currently only fragments in his mind.
Michael aspires to keep writing stories to share until he run out of ideas. People who know him and read his work tell him that they can hear his voice on the pages. If that's true, then his writing is a legacy, which will live on after he's gone.
Michael would be honored if readers visited his catalog at http://www.gerfnit.com. They'll find nine novels (paperback and ebook), a collection of short stories, and a children's book, which was written at the request of his middle G.Kid, Lucas.
Michael receives email at author@gerfnit.com
You can visit his catalog or novels and short stories at:
On Twitter, @gerfnitauthor
On Instagram, gerfnitauthor
Instagram gerfnitauthor
Michael Pickárd