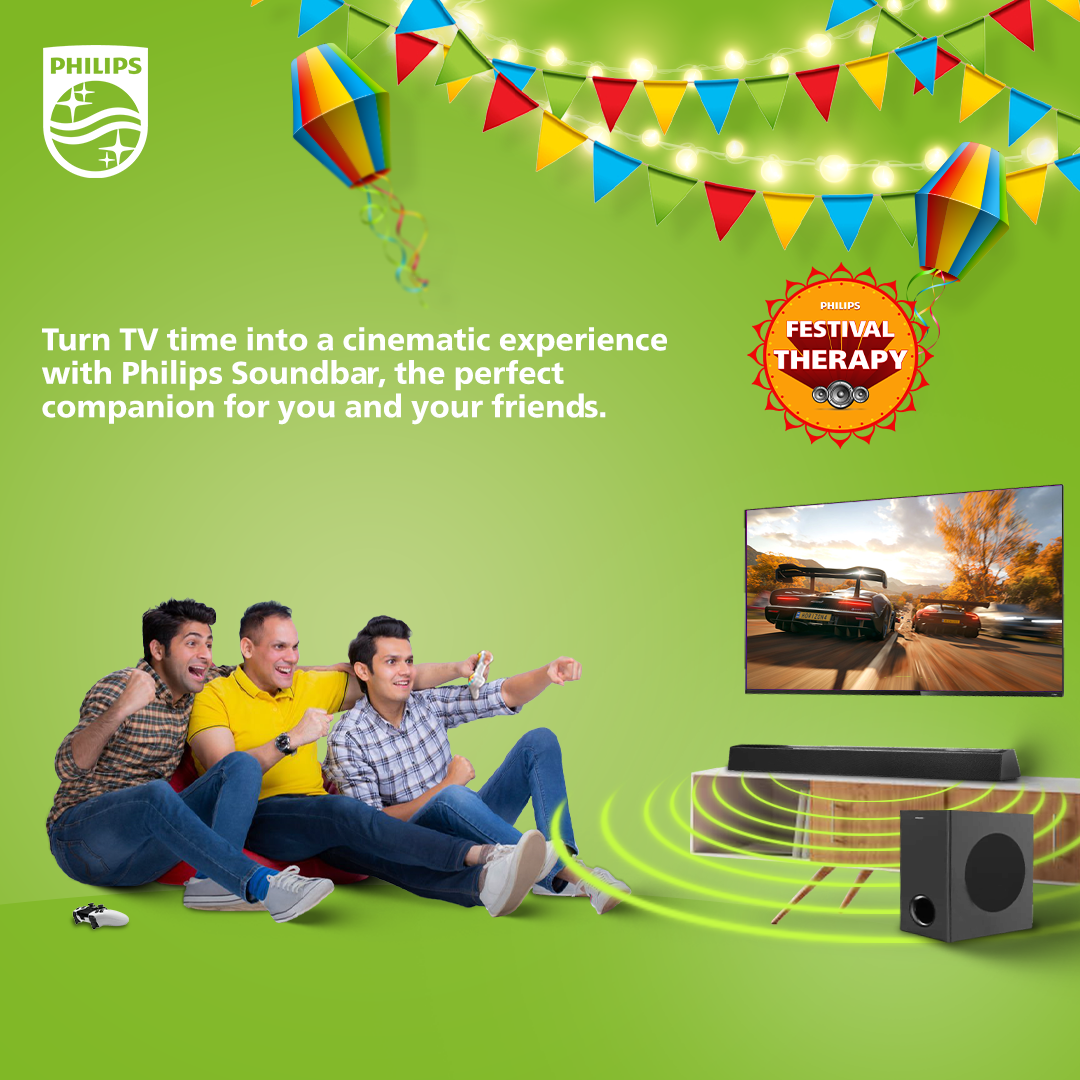 Get ready to celebrate with Philips 'Festival Therapy' @ Rs. 1*
Offering customers the opportunity to own top notch Philips Audio products at a down payment of Rs. 1*
New Delhi, 9th October 2023: In a fast-paced world filled with digital noise, finding moments of respite and rejuvenation can be challenging. Festivals with their vibrant celebrations and cultural significance, offer a unique opportunity for such relief. Keeping this in mind, TPV Technology announces the launch of revolutionary 'Festival Therapy' campaign, offering customers the opportunity to own top notch Philips audio products at a down payment of Rs. 1.
This campaign aims to bring joy, music, and high-quality audio experiences to customers during the festive season. Customers can avail this deal on select products from 1st October to 30th November, 2023.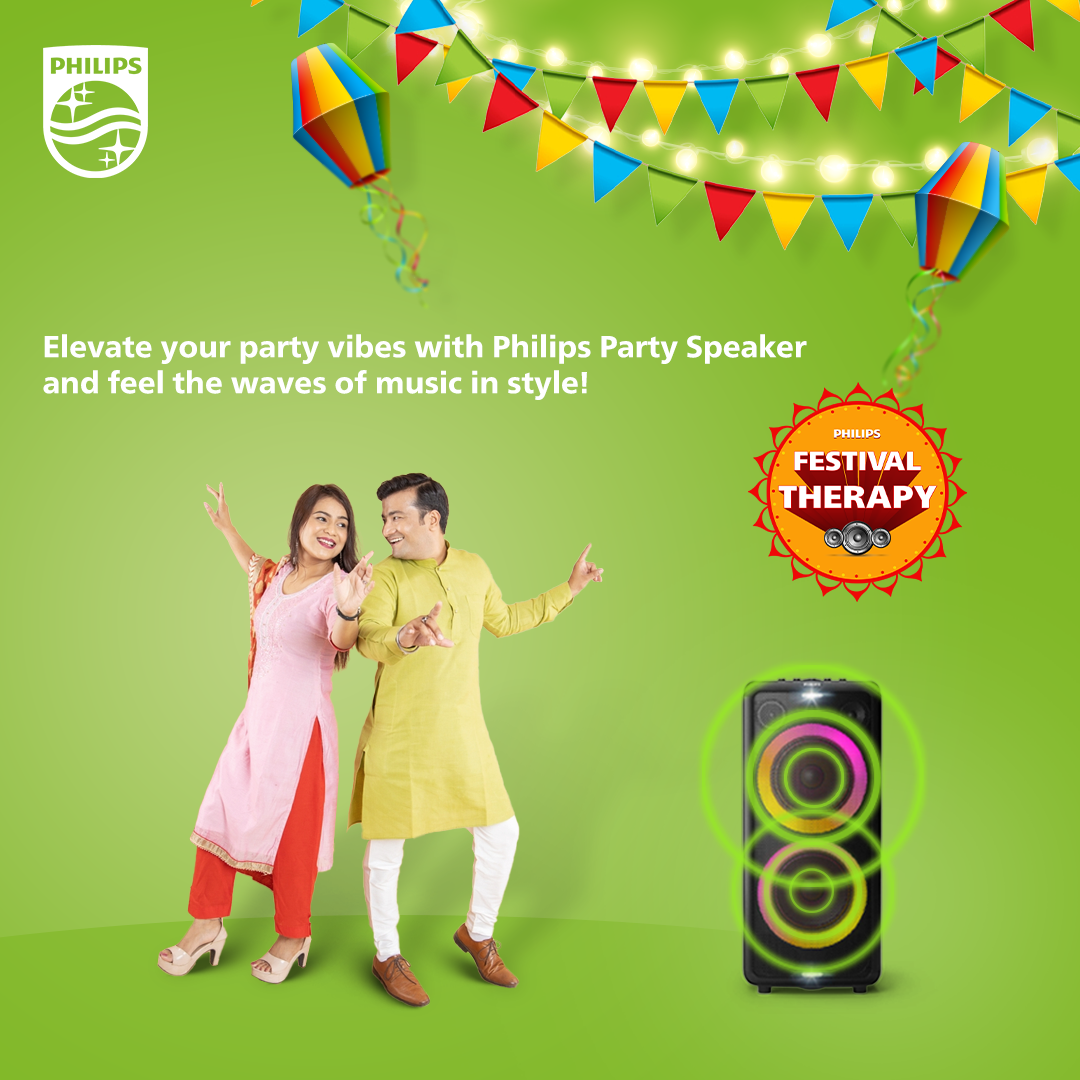 *Own now at Rs.1 & pay balance in easy installments
Starting from the Philips soundbar, party speaker to Tower Speaker, customers can purchase the product by paying an initial amount of Rs. 1 only and the balance amount can be cleared in easy installments
The heart of "Festival Therapy" is the Philips Audio, meticulously crafted to deliver audio that transports the user to the heart of the celebration. With crisp highs, deep lows, and immersive surround sound, it ensures that every beat, every note, and every cheer resonate with clarity and richness.
While announcing the "Festival Therapy" Campaign, Mr. Atul Jasra, Country Head, TPV Technology India Pvt. Ltd. said, "'Festival Therapy' is more than just a campaign, it's an open invitation to rediscover the sheer bliss of festivals and to create cherished memories. With our incredible product offerings at down payment of just Rs. 1, we're bringing our customers an unmatched audio experience that will elevate the festive vibes. At TPV, we are confident that we can elevate the overall festive experience and eagerly look forward to announcing more such offers in the near future".
Immerse in the ultimate sing-along experience with the Philips tower speaker SPA9120B, offering powerful audio and dynamic range for a music-centric journey. Meanwhile, the Philips Soundbar TAB8967 turns ordinary TV time into a cinematic extravaganza with its sleek design and crisp, enveloping audio, perfect for memorable gatherings with friends. To elevate party vibes, the Philips party speaker TAX5206 delivers booming beats and pulsating rhythms while serving as a stylish statement piece, ensuring music enthusiasts feel the waves of music in style.
On the purchase of the below mentioned products from the Philips Audio Range including sound bars, party speakers & tower speakers with this offer in place, customers get a chance to own them at a down payment of INR 1 only followed by various EMI options, wherein the offer is applicable across offline channels.
Model No
SPA9080B/94
SPA9120B/94
TAPB603/94
HTL8162/94
TAX5206/94
TAX3206/94
TAB7305/94
TAB8947/94
TAB7807/94
TAB8967/94
T&C Apply*
About TPV Technology
TPV is one of the world's leading monitor and LCD TV manufacturers, along with being a consumer electronics key player in the field of audio visual digital entertainment. TPV concentrates on developing, manufacturing and marketing Philips branded TV sets (Europe, Russia, Middle East, South America, China, India and selected countries in Asia-Pacific) and audio products (all around the globe) by means of an exclusive brand license agreement with Philips. We do this by combining the design expertise of TP Vision (100% owned by TPV) and innovative Philips brand heritage with the operational excellence, flexibility and speed of TPV Technology. With these combined strengths, we bring high-quality TV sets to the market: smart and easy to use with sophisticated styling. We believe in creating products that offer a superior audio and visual experience for consumers. With Philips TVs, TPV is a global leader in the hospitality market.
TPV has 11 production sites, 28 brand offices, 3 R&D centers and employs close to 32,000 people in several locations around the globe. We have been able to drive our growth over the years by leveraging our economies of scale and core competencies in R&D, manufacturing, logistic efficiency and quality.