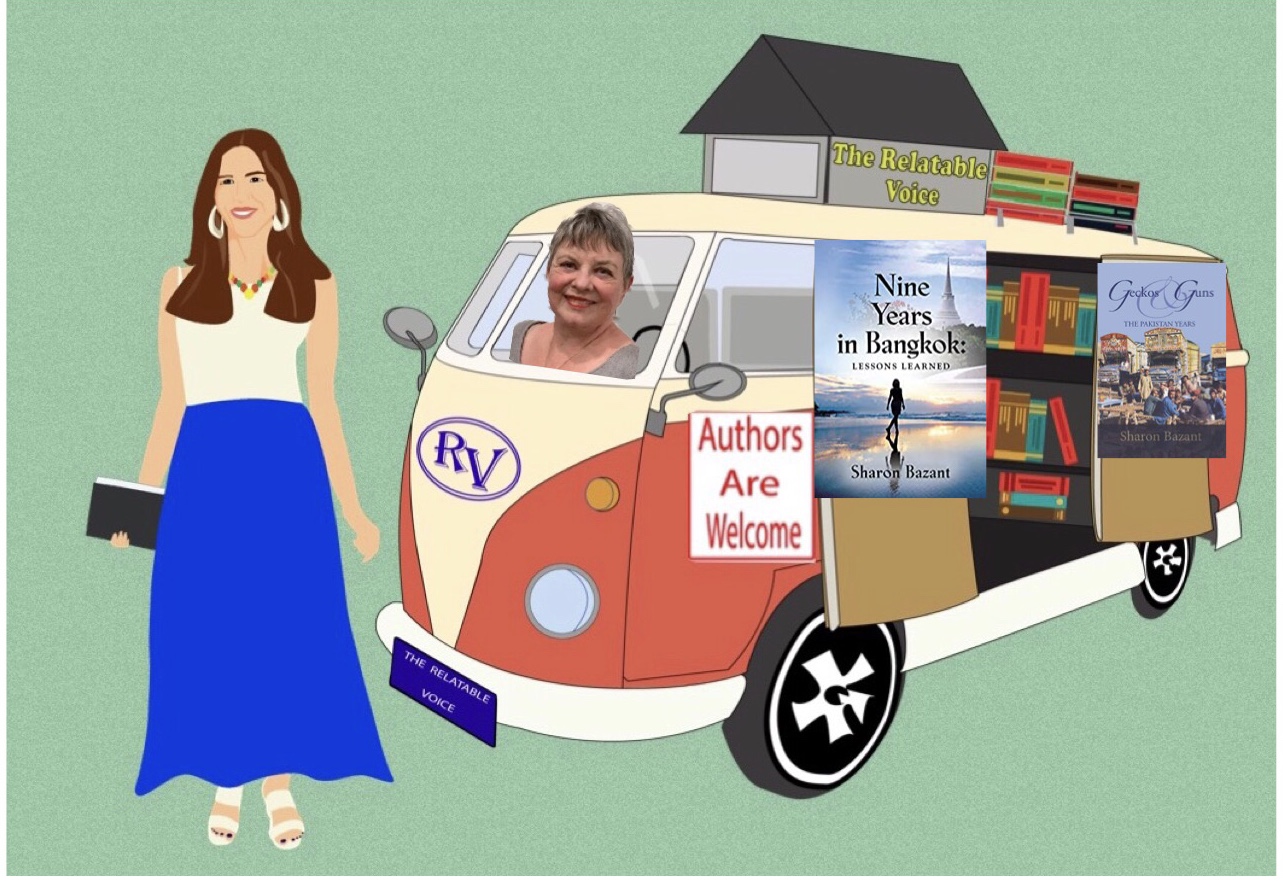 The Relatable Voice Podcast is happy to stop in Canada and talk to Sharon Bazant . Sharon is a retired teacher and is the author of the books Nine Years in Bangkok, lessons learned and Geckos & Guns: The Pakistan Years.
Sharon Bazant grew up on a prairie farm in southern Alberta, Canada. She loved nothing better than to curl up with a good book. She often wrote short stories and created plays casting her family and friends in lead roles.
After meeting her husband-to-be Wayne at university, she settled in the northern city of Edmonton. For more than 20 years Wayne worked for the Alberta government and Sharon taught middle school/high school drama and English literature. They had two children and built a successful, comfortable life together.
In 1991 they made the bold decision to uproot from their cozy suburban home. Along with their two teenage children, they moved to Islamabad, Pakistan during the final weeks of the first Gulf War. This was the beginning of a 14-year adventure in Asia where Wayne worked for the United Nations and Sharon taught at International Schools.
Sharon has penned two memoirs chronicling her overseas exploits. The first,Nine Years in Bangkok: Lessons Learned, was published in 2019. The second, recently published in February of 2021, is entitled Geckos & Guns: The Pakistan Years.
Where Nine Years in Bangkok is a tale of Bazant's personal soul journey set in Thailand, the focus of Geckos & Guns is the Bazant family's time in Pakistan—a time of adjusting to new and different surroundings, of embracing cultural differences, and of recognizing imminent danger. In the five years the Bazant family spent in Pakistan, they learned to love the temperate climate and the stark beauty of the countryside, the spicy curries and the exotic weddings, but they also learned to negotiate constant power cuts, flash floods, trips into opium country, bombings, a family emergency and more.
Heidi Slowinski, blogger and book reviewer had this to say about Geckos & Guns:
I was hooked from the first page. Bazant is a gifted storyteller, engaging all of the senses in her vivid descriptions of sights, sounds, smells, and tastes. The writing is very conversational, giving the reader the feeling of sitting down over a cup of coffee and getting to know a new friend. Bazant provides wonderful insight into the history, culture, politics, and religion of modern Pakistan that broadens the reader's understanding of the environment she and her family were living in. I thoroughly enjoyed Bazant's memoir and look forward to reading more from her.
Sharon is now retired, living in the Fraser Valley near Vancouver, Canada. She has donned a variety of professional and personal hats as a seasoned world traveler and long-term expatriate—teacher, play director, researcher, writer, and Thai massage practitioner, to name a few. In 2019 she added a new title—author. And the journey continues…
Readers can follow her ongoing exploits at www.thebazantblog.com. Her books are available in both paperback and eBook at all major online retailers.