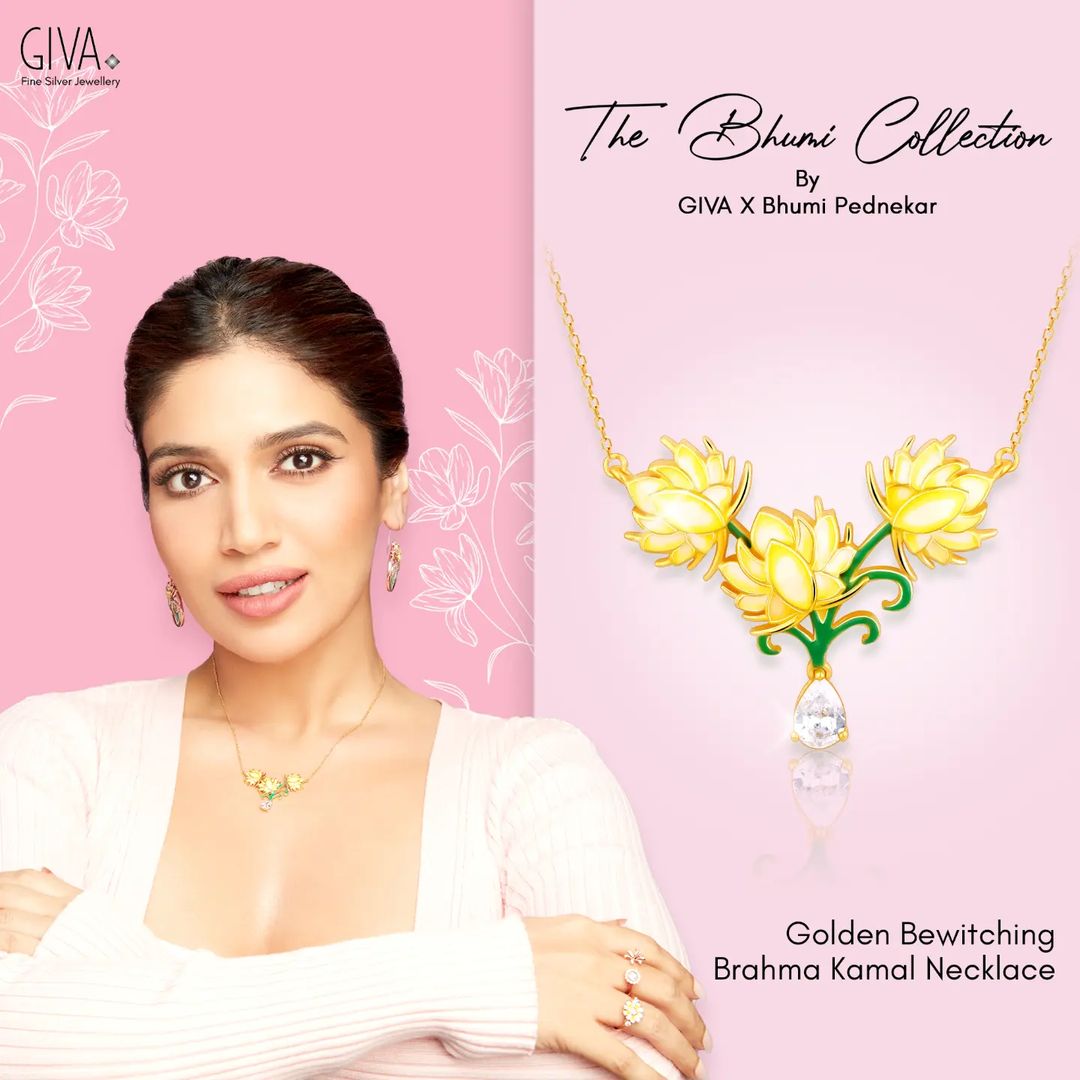 Actress Bhumi Pednekar Collaborates with Giva to Launch Exquisite Floral Silver Jewellery Collection
Mumbai – Giva, a renowned jewellery brand, has unveiled a captivating new floral line of silver jewellery in collaboration with the versatile actress Bhumi Pednekar. The collaboration between Giva and Bhumi aims to celebrate and raise awareness about six endangered flowers while offering jewelry enthusiasts a unique and meaningful collection.
The "Bhumi Collection" draws inspiration from the delicate beauty of six endangered flowers: Safed Musli, Bell Marrow, Brahma Kamal, Eyebright, Persistent Trillium, and Mountain Ebony. Each of these exquisite floral designs has been meticulously crafted into elegant pieces of silver jewelry, combining artistry with a commitment to environmental conservation.
Bhumi Pednekar, an advocate for environmental causes and a passionate artist, expressed her excitement about the collaboration, saying, "I have been thrilled to collaborate with GIVA on this collection. As an advocate for environmental causes and someone who always wanted to showcase my artistic skills, I believe that this collection has served as a beautiful reminder of the need to protect our planet's endangered flowers. Moreover, it provides an opportunity to gift meaningfully, offering our loved ones jewelry that can be styled in countless ways. It's a double dose of happiness!"
The "Bhumi Collection" not only embodies the grace and charm of these endangered flowers but also reflects Bhumi Pednekar's dedication to sustainability and eco-conscious living. By infusing these endangered flowers' essence into jewelry, the collection serves as a visual tribute to the beauty of nature and the urgency of protecting it.
Ishendra Agarwal, CEO of Giva, also expressed enthusiasm about the collaboration, stating, "Giva has been delighted to join forces with Bhumi Pednekar in bringing 'The Bhumi Collection' to life. This collection has exemplified our shared commitment to delivering exceptional products. With these versatile jewelry pieces, we have aimed to delight our customers by offering them jewelry that not only celebrates the beauty of our planet but also caters to their unique style preferences."
The collaboration between Giva and Bhumi Pednekar is a testament to the power of art and fashion in advocating for environmental conservation. By wearing pieces from "The Bhumi Collection," individuals can adorn themselves with the elegance of nature while contributing to the cause of preserving these endangered flowers for generations to come.
"The Bhumi Collection" by Giva is set to captivate jewelry lovers and environmentally conscious individuals alike, showcasing the perfect blend of artistry, sustainability, and style. This extraordinary collection serves as a reminder of the importance of cherishing and protecting the fragile beauty of our natural world.