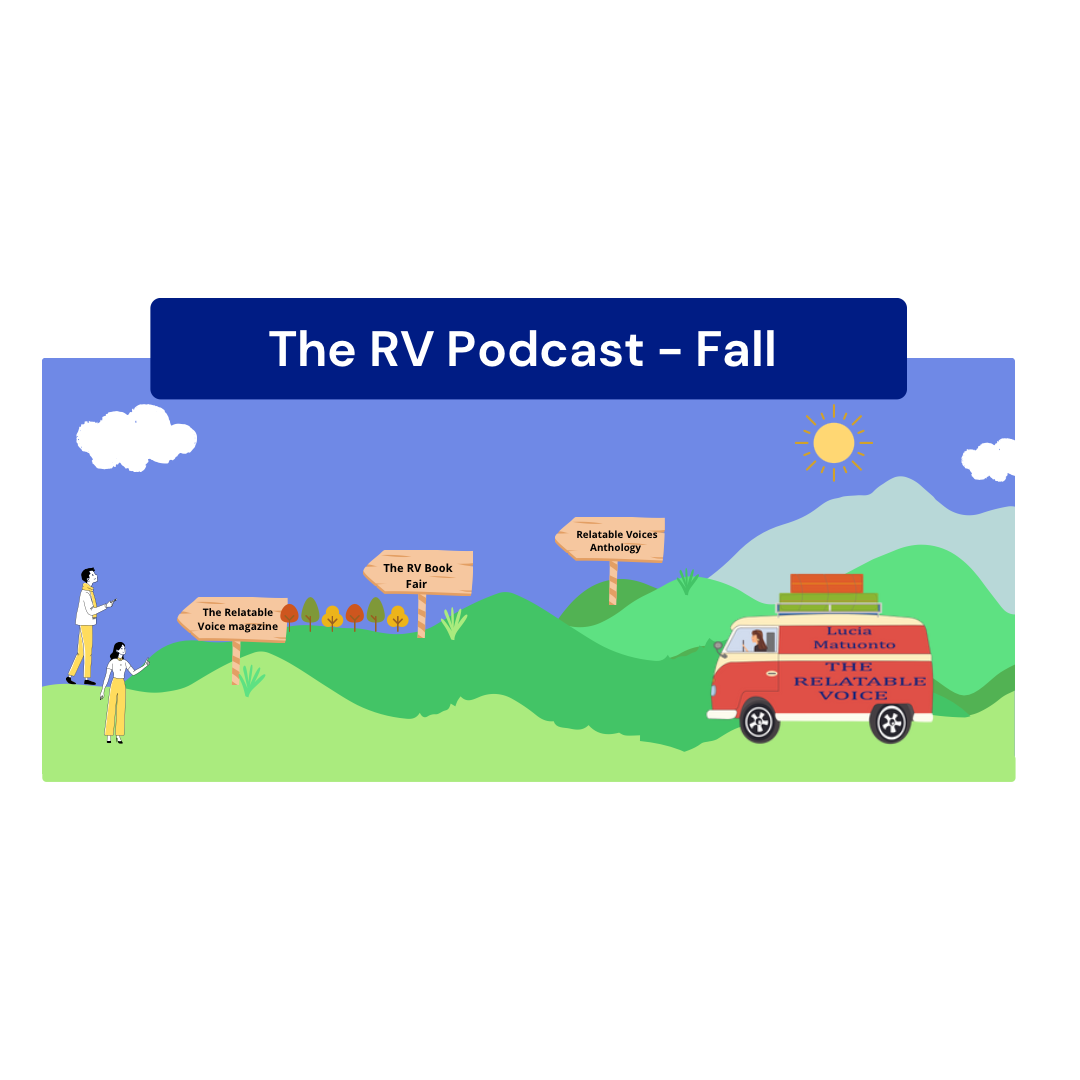 Season 3 of The Relatable Voice Podcast has started, and the adventure does not stop there! With 800,000 downloads, over 700 5-star reviews and well over 200 episodes, the RV podcast has expanded to Relatable Media. To celebrate, there are three wonderful things happening this fall:
Our anthology Relatable Voices is being released 
Named after her show, THE RELATABLE VOICES anthology promises to be a delightful read. A coffee table book that you can pick up, open to any page and find something to make you smile. Packed full of short stories and colourful cartoons it will be a visual treat.
Our inaugural The RV Book Fair 2022 will be available for viewing
Don't forget to check out The 2022 RV Book Fair happening this September. We will be hosting discussion panels with the featured authors, as well as their stories being featured on The RV podcast. Special articles will also be published on BrandEducation, WorldAuthors and The Relatable Voice magazine.
The RV will be bringing books right to the doors of our readers.
Want free books? The 2022 RV Book Fair has made it extremely easy to win free books. With an assortment of a variety of genres and authors, you can easily get your hands on one of the latest books out there.
All you have to do is enter your email address at www.relatable-media.com or www.luciamatuonto.com. There will be 50 (that's right, 50!) randomly selected winners who will each receive a printed copy of a published novel. There is no purchase necessary, all you need to do is subscribe! This giveaway is valid for US residents only.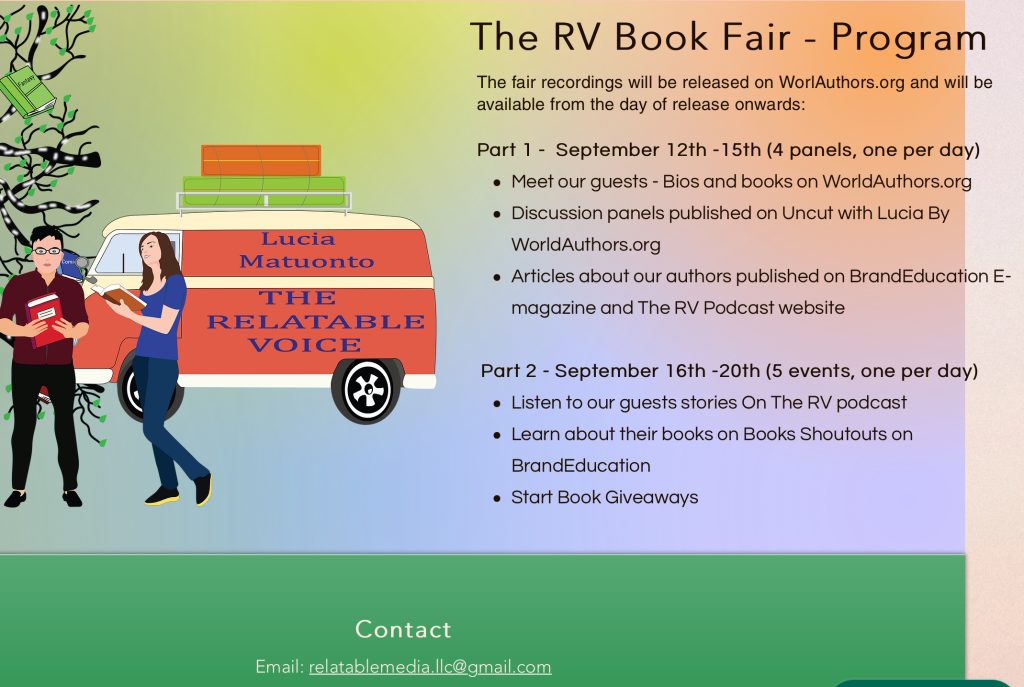 A special edition of The Relatable Voice magazine will be published featuring the authors from the RV Book Fair 
The RV podcast is bringing you a magazine where you can enjoy beautiful travel destinations, books, current issues, storytelling, wellness, art and more. The contributors for this exciting new publication are all RV guests who took a ride on the podcast, forming this amazing new community. This way, listeners can see the faces behind the voices.
In the magazine's inaugural issue, the author Matt Lucas contributes the article "Seven Meditations on Wellness". Lucas is an expert in yoga and martial arts. He is the creator of the Yama method and has trained actors in martial arts in movies such as the blockbuster The Matrix .
You can even find tips about makeup and beauty with our cover star Kasia Pilewicz and Bibi, the host of Beauty Talks with Bibi.
You can learn about female empowerment with author and psychologist Lindsay Sealy, who teaches young women to be their best self.
The Relatable Voice magazine is free of charge and will be published seasonally. Be sure to get your copy of the newest issue out now!
Guest slots on the podcast for October and November are available for booking now. We are so happy to have you join in on this ride with us, no matter where you are in the world! If you want to know if you're a right fit for our show, please subscribe to our website: https://www.relatable-media.com/
The journey doesn't stop on the RV – more to come on the way!
Listen to our latest episode with the actor David Lautman.
David Lautman was born in Los Angeles, CA. In addition to acting in Film and TV, David has performed in Theatre and has appeared in over a hundred commercials including an International Campaign Spokesperson role for CarGurus. David credits his father Ben, known for starring in the original Broadway production of HAIR from 1970-1974; for inspiring him to become an Actor. You can watch David recurring on ABC Daytime Soap 'General Hospital', Amazon Prime Drama 'Hunters' & Peacock Mini-Series 'Angelyne'.