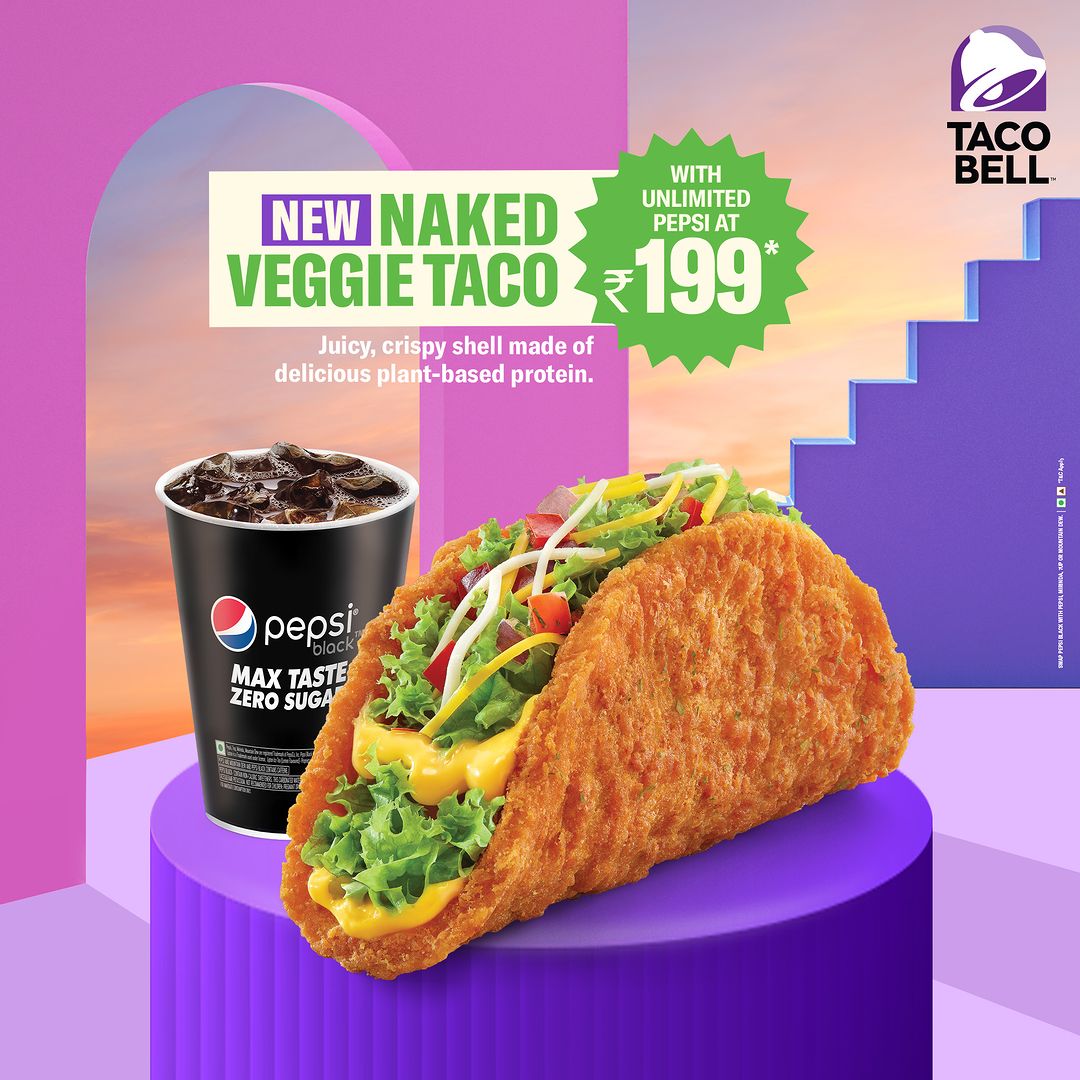 Savor Taco Bell's Naked Veggie Taco with Unlimited Pepsi at ₹199
Taco Bell, the pioneer of innovative and mouthwatering fast-food creations, is changing the game again. Their latest offering, the Naked Veggie Taco, is a testament to Taco Bell's commitment to providing diverse and delectable options for all taste preferences. What makes this culinary masterpiece even more irresistible? You can enjoy it with unlimited Pepsi Black for just ₹199. Discover why it's a must-try for vegetarians and food enthusiasts alike.
The Naked Veggie Taco: A Plant-Based Marvel
The Naked Veggie Taco is a dream come true for vegetarians and veggie lovers. This unique creation features a taco shell made entirely out of plant-based protein, setting it apart from traditional taco offerings. Inside this flavorful taco, you'll find a delightful medley of ingredients that come together to create a taste sensation. The show's star is a crusted and spice-coated plant-based protein patty that provides a satisfying and savory bite. Layered with warm nacho cheese, it offers a creamy and indulgent contrast to the patty's texture.
The taco is further enhanced with crisp lettuce, which adds a refreshing crunch, and Taco Bell's signature Mexican Pico De Gallo – a tangy tomato and onion mix that infuses every bite with a burst of flavor. To complete the culinary experience, the taco is generously topped with a mouthwatering blend of mozzarella and cheddar cheese. It's a vegetarian delight that's sure to please even the most discerning palates.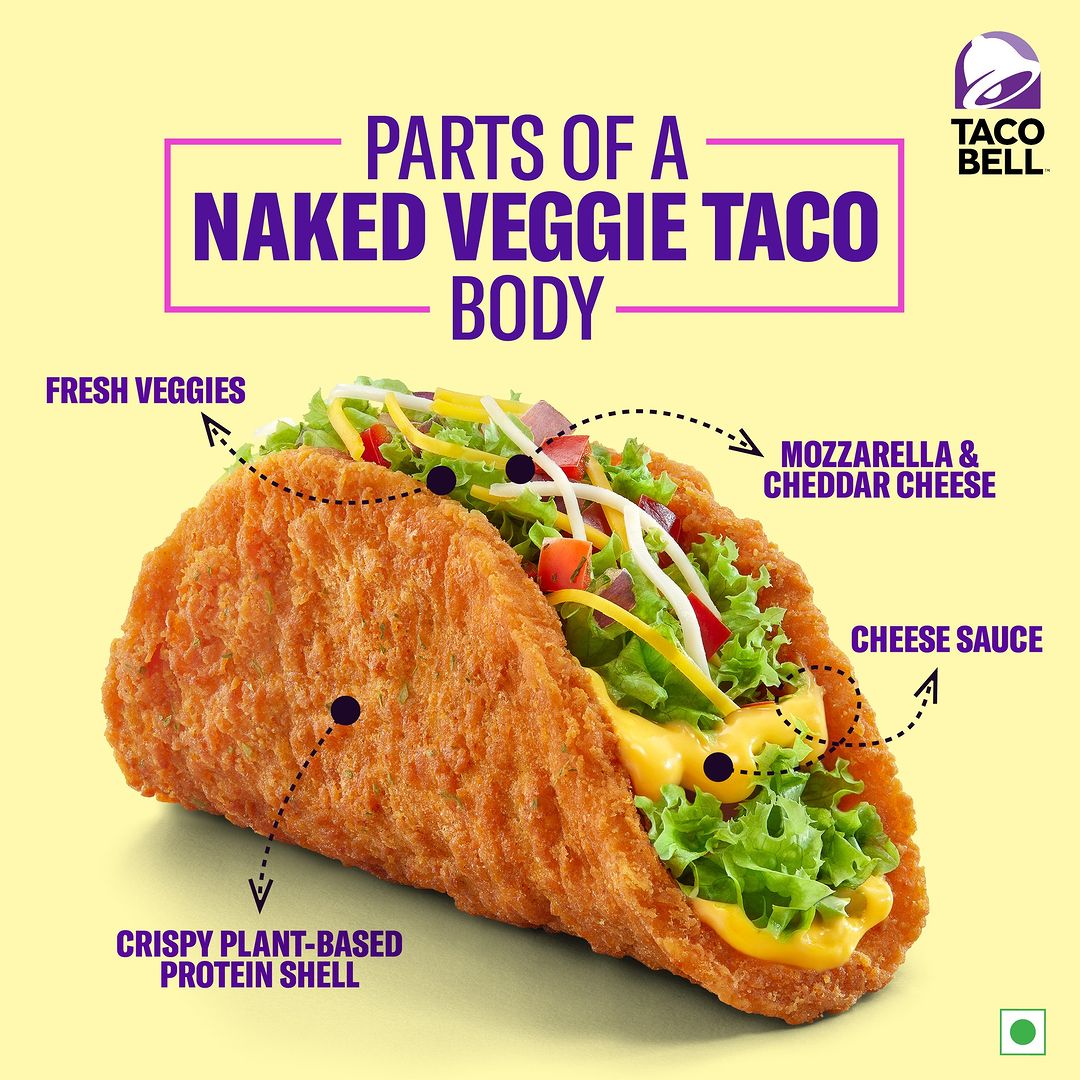 Go Anywhere with Taco Bell's Naked Veggie Taco
One of the most appealing aspects of the Naked Veggie Taco is its versatility. Whether you're traveling north, south, east, or west, this taco is your trusted companion. With its plant-based protein shell and a flavor profile that caters to various tastes, it's perfect for on-the-go enjoyment. Whether you're exploring the city, embarking on a road trip, or simply looking for a quick and delicious meal option, the Naked Veggie Taco is the answer.
Unlimited Pepsi Black: A Perfect Pairing
To make your Naked Veggie Taco experience even more satisfying, Taco Bell offers an incredible deal. For just ₹199, you not only get to indulge in this plant-based marvel but also enjoy unlimited servings of Pepsi Black. The refreshing and fizzy Pepsi Black is the ideal companion to the bold and flavorful Naked Veggie Taco. It complements the spices and textures of the taco, ensuring every bite is a delightful experience
Best Vegetarian Option
Taco Bell's Naked Veggie Taco is proof that vegetarian options can be as exciting and flavorful as their meaty counterparts. With its innovative plant-based protein shell and a harmonious blend of ingredients, it's a testament to Taco Bell's dedication to culinary creativity. And when you add the unlimited Pepsi Black into the mix for just ₹199, you're not only getting a fantastic deal but also a memorable dining experience.
Whether you're a vegetarian, a fan of plant-based cuisine, or simply looking to try something new and delicious, the Naked Veggie Taco should be on your list of must-tries. So, head to your nearest Taco Bell and savor the unique flavors and textures of the Naked Veggie Taco. With unlimited Pepsi Black, it's a culinary adventure that's both satisfying and budget-friendly. Don't miss out on this extraordinary offering from Taco Bell!