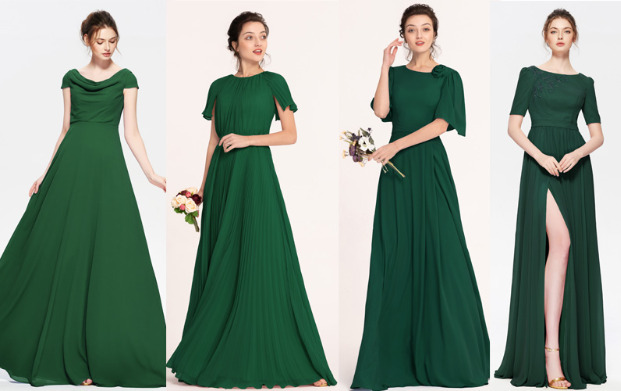 Plus Size Bridesmaid Dresses Tips! Dressed As If You've Lost 20 Pounds Weight!
Plus size are often called in a friendly name of large curved, we know it's a respectful name, but fat is fat, only after we can face up to what we really are, then we are able to start the change. Our body are larger than normal, yes, thus the dressing tips are different accordingly, we can't dress like those girls. In this blog post, we'll share you 5 core dressing tips for plus size bridesmaid dresses, follow them, everyone will wow your look!
1. These necklines will make plus size girls look slimmer.
Going for wider and deeper necklines such as O-neck, scoop neck, wide V-neck, and cowl neck can give the appearance of a slimmer figure for plus size girls. These necklines create a balanced and divided proportion of the upper body. Conversely, high necklines and narrow necklines like halter tops and certain high neck designs may not be as flattering for plus size individuals.
2. Sleeved styles will hide some problem areas for you, but attention, not all sleeves are flattering.
You may find that sleeved styles can be a great way to conceal areas that you may not want to highlight. However, it's important to note that not all sleeves are created equal. In fact, some styles may actually draw more attention to your problem areas rather than hiding them.
For instance, if you have stronger arms, tight or fitted sleeves can make your arms appear even wider, adding unnecessary volume to your silhouette. Textured sleeves can also have a similar effect, especially if they feature details like ruffles or pleats that draw the eye towards your arms.
Instead, consider opting for sleeves that are loose and flaring, draping naturally down along your arms. Bishop sleeves, bell sleeves, flutter sleeves, and butterfly sleeves are all great options to consider. These styles can add a touch of elegance and femininity to your outfit while also helping to create a more balanced and proportionate silhouette.Remember, the key to finding the right sleeve style for your body type is to experiment with different designs and pay close attention to how they make you feel. By taking the time to find the right fit and style, you can ensure that you look and feel confident and beautiful in any outfit you choose to wear. eDresstore can individualize bridesmaid dresses for you, for example, changing the sleeves to flattering sleeve-styles for you only take you one email's time.
3. Flowy silhouette is your friend, much better than all other shapes.
There are a variety of silhouettes to choose from, including A-line, column, mermaid, and ball gown. However, if you're looking for a flattering and comfortable option, a flowy A-line silhouette may be your best bet.
One of the main benefits of an A-line silhouette is that it cascades naturally down to the floor, creating a beautiful and elegant look that can flatter a variety of body types. This style is particularly helpful for hiding any areas that you may not want to accentuate, such as your hips or thighs. Additionally, the flowy nature of the A-line silhouette allows for comfortable movement, which is especially important if you'll be wearing your gown for an extended period of time.
While other silhouettes may also have their benefits, such as the figure-hugging shape of a mermaid gown or the dramatic flair of a ball gown, they may not be as universally flattering as the A-line silhouette. Ultimately, the most important thing is to choose a silhouette that makes you feel confident and beautiful on your special day.
4. Small embellishments have a significant impact.
Some embellishments will add some details and disperse the body proportion and thus gives a slimmer illusion. Such as ruched top, overlays or bows, some hand sewns beadings forming a sophisticated pattern, they are all good options. Remember to avoid too structured or complicated decorations that will draw too much attention and add volume. Keep your whole look simple while adding a little bit details will be your best way.
By carefully considering the right embellishments, you can make a significant impact on the overall appearance. The key is to choose the right types of embellishments that will flatter their body shape and create a slimmer illusion.
There are several types of embellishments that work well. For instance, a ruched top can create a draped effect that will disperse the body proportion, giving a slimmer look. Overlays or bows can also be a great option as they add some extra details to the dress while still maintaining simplicity. Hand sewn beading can also work wonders, forming a sophisticated pattern that can add a touch of elegance to the dress.
It's important to remember that not all embellishments are created equal. Avoiding overly structured or complicated decorations is key, as they can draw too much attention to specific areas and add unwanted volume. Instead, opt for simple yet effective details that will enhance the dress without overpowering it.
In conclusion, choosing bridesmaid dresses for plus size girls requires careful consideration of the right embellishments. By keeping things simple while adding just the right amount of detail, you can ensure that your bridesmaids feel confident and beautiful.
5. Colors plays an important role on the look. Some specific colors look slimmer.
Darker colors are always plus size girls' friend, when you compare 2 things with the same size, the one in darker colors do look slimmer than the one in light colors.
It's important to choose the right colors that can flatter their body shape and create a slimming effect. In this regard, darker colors have always been a plus size girl's best friend. When you compare two things of the same size, the one in darker colors always looks slimmer than the one in light colors. Therefore, it's recommended to go for darker shades when choosing dresses for plus size girls.
Colors like black, navy, dark emerald, cinnamon, eucalyptus green, and desert rose are all excellent choices for plus size girls. These colors not only flatter their curves but also create an elegant and sophisticated look. These colors have a slimming effect as they absorb light and make the body appear smaller.
On the other hand, it's best to avoid light colors like champagne, ivory, baby pink, or yellow. These colors tend to reflect light and can make the body appear larger than it actually is. Light colors can also draw unwanted attention to certain areas, which can be unflattering.
Some styles are designed for plus size girls that can make them look better, eDresstore has a wide range of plus size bridesmaid dresses that are both flattering and cost effective.