Kaylon Bruner Tran is The Author of The Week
Hello author Kaylon, what is your favorite thing about being a writer?
The creative freedom. Even with historical fiction—which I want to be as accurate as possible—the characters and personal events are mine to imagine and mold.
If you could tell your young writing self anything, what would it be?
Pay more attention in English class and the use of commas. Your future editor will thank you.
How long on average does it take you to write a book?
My first book took four months and the second and third each took about six months. Once the ideas took hold, the writing went pretty quickly.
What inspired you to start writing?
I've always enjoyed writing, but had not considered writing a novel until my family had our DNA analyzed. We discovered a relative looking for his birth mother. My first novel was inspired by that story. The second and third books happened because after the first book was published, I missed working on it. 
Do you hear from your readers much? What do they say?
Not enough. But Vietnam veterans the most. I have written three books so far (collectively, The Agent Orange Trilogy) and each touch on aspects of the Vietnam War. They are not "war novels" but instead try to show how the war affected both soldiers and civilians. I also touch on the generational effects of Agent Orange, which is the focus of my scientific research. The veterans really seem to appreciate my telling that story in a way everyone can understand. 
How do you come up with the title of your books?
The first book—Time Intertwined—was originally titled just "Intertwined," because there are two intertwined stories that are connected by DNA (which is a double helix—so the strands are intertwined). A friend of mine googled Intertwined and found dozens of books by that name. I was really bummed but agreed with her that I should come up with something more unique. Eventually it became Time Intertwined because the two intertwined stories occur in different time periods (present and past). The second book "Lives Intertwined" was named by a friend—it was actually his suggestion for the first book and I very nearly used it. When I kept writing and decided to create a trilogy, I knew immediately the title of the second book would be Lives Intertwined. In the second book there are multiple stories that are intertwined and so "Lives Intertwined" was perfect. The third book, Darkness and Light Intertwined, was the most difficult to name. I knew it wanted it to something along the lines of "Joy and Sadness Intertwined" but everything I thought of was terrible. I was actually thinking about it when my sister sent me a photo that she had taken on her farm. I took one look at it and instantly knew the book should be Darkness and Light Intertwined. That photo became the cover of the book. 
What does literary success look like to you?
Probably the same as every other writer. I want people to enjoy what I write. Maybe learn something.
As a child, what did you want to do when you grew up?
I wanted to be an astronaut. At the time (1970 or so), you had to be 5'11 to be an astronaut because they only had one size space suit. I'm 5'2. It was terribly disappointing. But, it turns out, my math skills were also lacking…so even if I were tall that career wouldn't have worked out for me.
What do you like to do when you are not writing?
I guess I work—writing fiction is what I do for fun. 
What do you think makes a good story?
I like compelling characters that have depth. All three of my books have one or more characters who are young in the beginning and grow old across the pages of the book. I love telling stories across a person's lifetime. One of my favorite authors—Ken Follett—is a master at telling stories over a lifetime.
Where do you dream traveling to and why?
I want to leave Earth and see what is beyond. I'm confident we are not alone in the universe and would jump at the chance to explore other galaxies. I just hope that when we make contact with them that they are friendly.
State a random fact about yourself that would surprise your readers.
I'd rather be barefoot. If shoes are optional, I am not wearing any. I keep extra shoes in my car and at work just in case I get somewhere and realize I'm barefoot. It happens more often that you might think.
Who are your cheerleaders?
My sister Leana and my friend Christina. They are genuinely happy for any success that I have and keep me moving forward whenever I get discouraged.
What was your hardest scene to write?
In the first book, Anh escaped Vietnam on a boat. I read many, many stories of refugees that left Vietnam at the end of the war and was so afraid I wouldn't do them justice. It was the last chapter I wrote even though it was in the middle of the book.
What is your writing process like? Are you more plotter or a pantser?
For the first two books, I more or less knew beginning, middle, and end of the story when I started. The details—exactly how things would unfold—was often a surprise to me. Sometimes I didn't know what was going to happen next until I wrote it. The third book in the trilogy—I had NO IDEA what the book would be about when I changed the cover of Time Intertwined to say "Book 1 of the Agent Orange Trilogy." I was more than halfway through writing book 2, when the idea finally came to me. I had to go back a change a few things in book 2 to make it work—but I really love how the stories came together.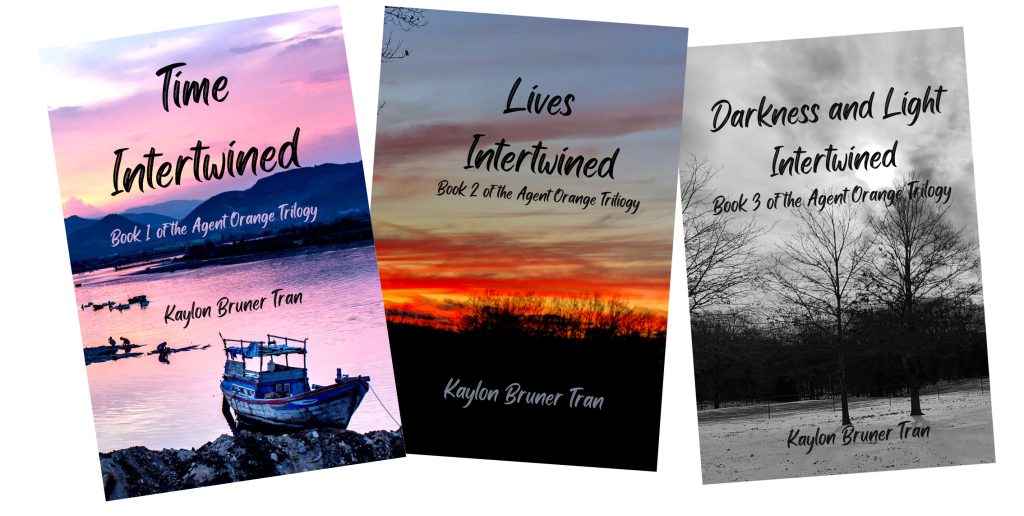 Find out more about Kaylon at: kaylonbrunertran.com
Listen to Kaylon episode: