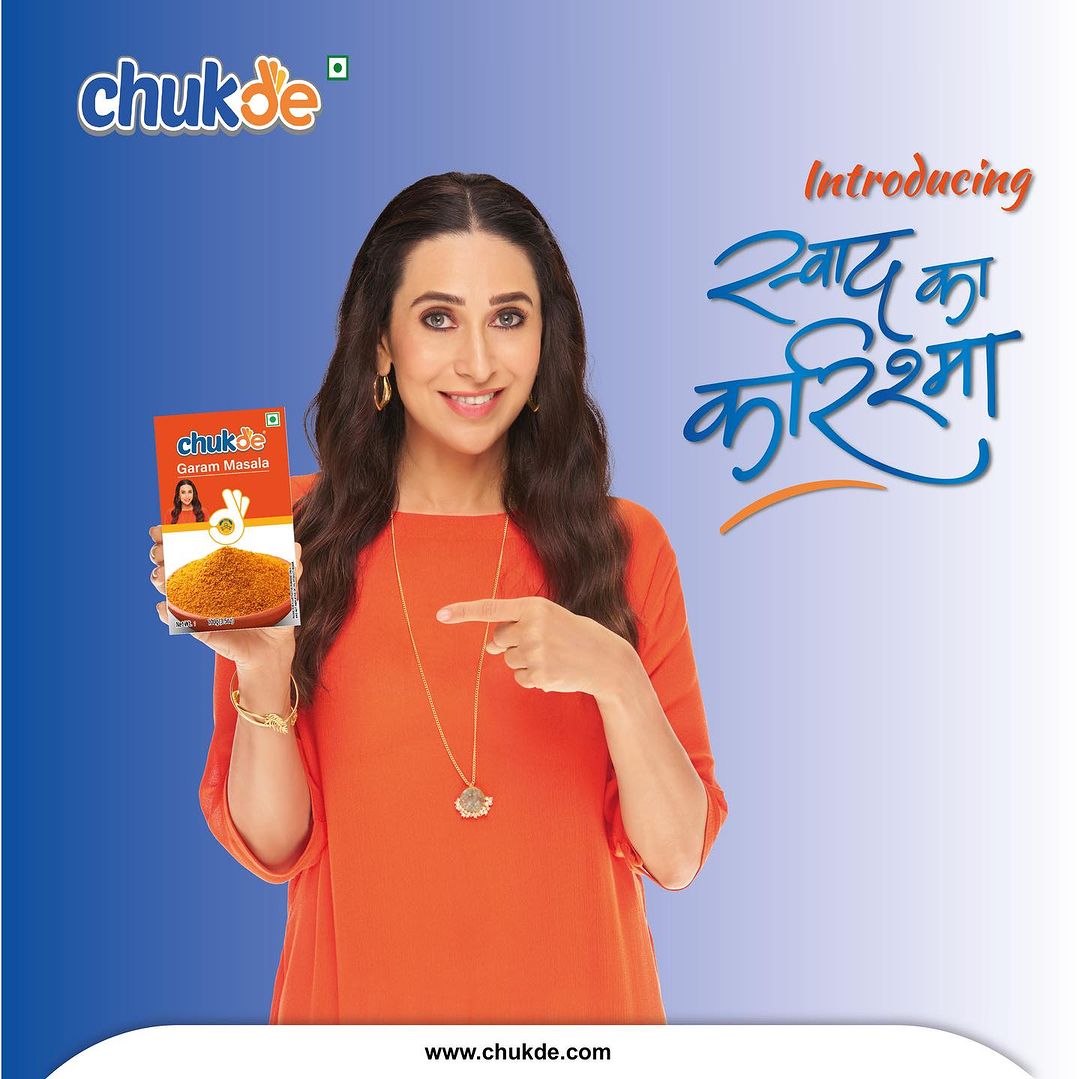 Karisma Kapoor Steps into the Spice World as Chukde Spices' Brand Ambassador
Chukde Spices has made a spicy and flavorful announcement. The renowned spice brand has introduced the Bollywood sensation Karisma Kapoor as its brand ambassador, solidifying a partnership set to last for the next two years, from August 2023 to August 2025.
Chukde Spices is not just another name in the world of spices; it's a legacy of quality, authenticity, and food safety. Since its beginning in 2006, the brand has been on a relentless mission to deliver the finest spices to Indian kitchens. Their commitment to excellence and uncompromising standards have garnered millions' trust, making them a household name.
They specialize in offering a diverse range of products, from whole spices to blended spices and superfood items, ensuring there's something for everyone.
Quality isn't merely a buzzword for Chukde Spices. The brand's ethos revolves around the idea of 'Saaf Nahin to Paisa Nahi' (No cleanliness, no money). This is more than just a catchy slogan; it's a testament to their unwavering dedication to customer satisfaction. They pledge to deliver on their promises, and they've made it clear that if they don't meet their quality standards, they don't deserve their customers' money. This transparency and commitment set them apart in the highly competitive spices market.
Rajat Luthra, Director of Chukde, passionately spoke about their unique campaign: "We are the custodian of money that we charge from our customers, and we deserve the money only if we deliver on our promises. We are the only brand with such a campaign in the spices category. We did fairly well in conveying our message to our customers, which made us their favorite brand over the years."
The brand was honored with the National Award for Outstanding Entrepreneurship in 2015 and again in 2020, a testament to its dedication to quality and innovation.
But their influence doesn't stop within India's borders. Chukde Spices have gained international acclaim, exporting its products to 29 countries worldwide.
Bringing Karisma Kapoor as their brand ambassador is a strategic move for Chukde Spices. Karisma Kapoor is not just a Bollywood icon but also synonymous with grace, charm, and a commitment to quality. Her persona reflects Chukde's values, making her the perfect fit to represent the brand.
With this partnership, Chukde is poised to reach new heights in terms of brand visibility and consumer trust. Karisma Kapoor's appeal transcends generations, and her association with Chukde is expected to further solidify the brand's position as a trustworthy and quality-conscious spice manufacturer.