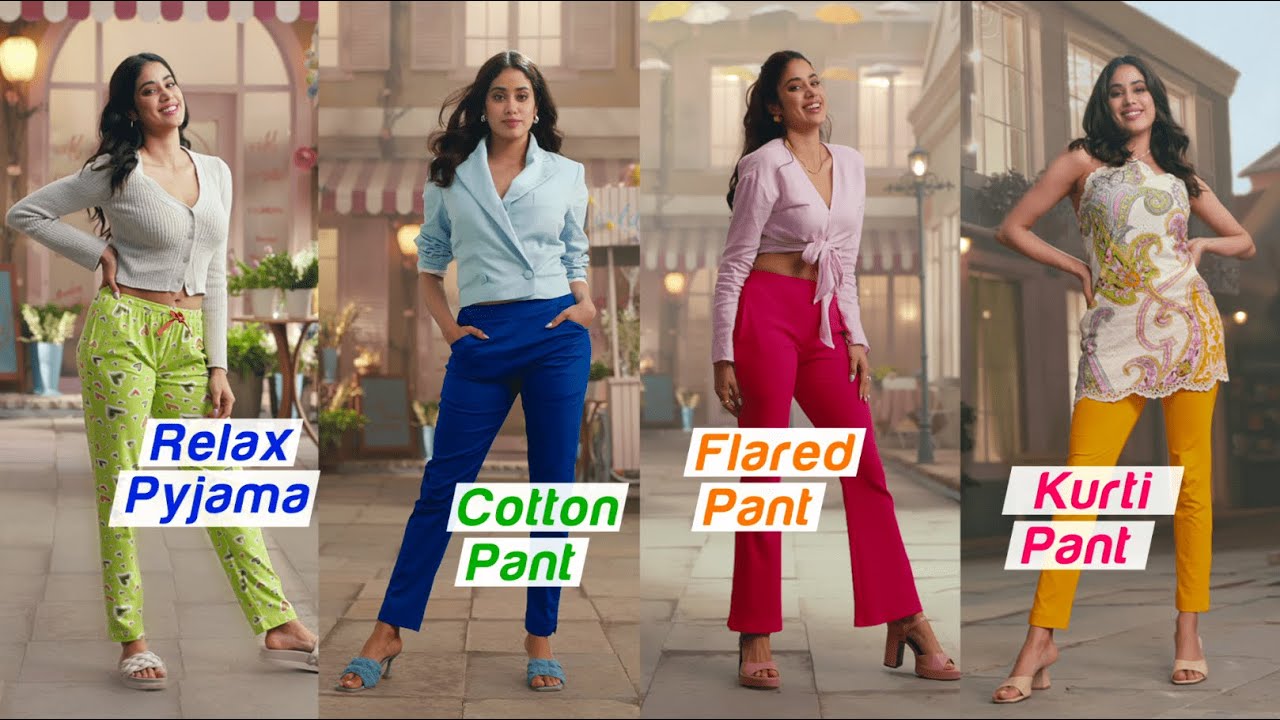 Janhvi Kapoor Radiates Confidence in Lyra's Empowering Campaign
Lux Industries' women's wear brand, Lyra, has taken a bold step towards empowering the vibrant and dynamic young crowd by enlisting the young actress Janhvi Kapoor as the face of their latest campaign, "Always Ready for More… Anytime, Anywhere." This strategic move aims to position Lyra as more than just a clothing brand—it's a symbol of empowerment that enables individuals to embrace every opportunity with confidence and style, no matter where they are or what they're doing.
The "Always Ready for More" campaign is a statement of intent from Lyra—a declaration that their clothing empowers individuals to rise to any occasion, be it in their daily lives or during special moments. Through this collaboration with Janhvi Kapoor, the campaign showcases a journey of a confident woman who seamlessly transitions through various roles in her modern life. From the relatable girl next door to the authoritative corporate leader, from the carefree dancer to the dazzling star performer, Janhvi Kapoor's versatile portrayals capture the essence of today's multifaceted woman.
A central focus of the campaign is the way it ingeniously intertwines Janhvi's journey with Lyra's diverse collection. Each mood, each transition, is accompanied by Lyra's clothing, emphasizing the brand's adaptability to different settings and occasions. This juxtaposition serves as a powerful representation of how Lyra enables its consumers to confidently express their individuality through fashion, irrespective of the situation.
Janhvi Kapoor, the face of this empowering campaign, shared her excitement about her association with Lyra: "Becoming the face of Lyra is a thrilling journey, where fashion becomes a statement of confidence and individuality. I am excited to personify the elegance and grace that the brand stands for. Shooting with the team was truly enjoyable, and I wholeheartedly hope for their continued success and even greater achievements in the future."
Udit Todi, the executive director of Lux Industries, also shared his thoughts on the campaign, highlighting Janhvi Kapoor's embodiment of the modern, confident woman who fearlessly embraces her uniqueness. He paralleled Kapoor's celebration of self-expression through fashion with Lyra's core values. As the brand ambassador, Kapoor embodies the essence of a beacon of inspiration for women, showcasing that fashion goes beyond mere clothing—it is a tool of self-assurance and empowerment.
Lyra's "Always Ready for More" campaign resonates with the essence of the contemporary woman—dynamic, confident, and unapologetically authentic. By partnering with Janhvi Kapoor, a rising star in both the entertainment and fashion realms, Lyra is delivering a powerful message that fashion is not just a means of adorning the body but a way of expressing one's inner strength and individuality.
As the campaign unfolds and Janhvi Kapoor's journey as a confident modern woman continues to captivate audiences, Lyra sets a remarkable precedent for the fusion of fashion and empowerment. This collaboration is a testament to the brand's commitment to enabling women to navigate their lives with style, poise, and the unwavering knowledge that they are "Always Ready for More… Anytime, Anywhere."