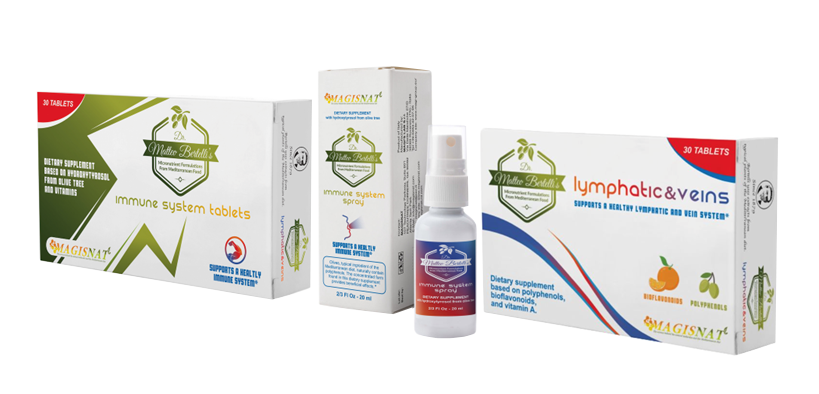 Introducing Dr. Matteo Bertelli's Revolutionary Dietary Supplements for a Stronger Immune System*, Now Available on Amazon
Dr. Matteo Bertelli, a renowned geneticist, is thrilled to announce the launch of his groundbreaking line of dietary supplements designed to support and enhance the immune system.* Dr. Bertelli's Immune System Tablets, Immune System Spray, and Lymphatic&Veins formula are now available for purchase on Amazon, beginning this week.
As the world grapples with unprecedented health challenges, maintaining a strong immune system has become more important than ever. Dr. Bertelli, with his extensive expertise and commitment to scientific research, has developed a range of innovative dietary supplements that harness the power of vitamins and hydroxytyrosol to fortify the body's natural defense mechanisms.
Dr. Bertelli's Immune System Tablets are a comprehensive blend of essential vitamins and antioxidants, carefully formulated to strengthen the immune system*.This convenient and easy-to-use tablet form is ideal for individuals seeking a convenient daily supplement routine.
For those who prefer a more versatile option, Dr. Bertelli's Immune System Spray offers a quick and effective way to boost immunity. Packed with the same powerful ingredients as the tablets, this spray provides a convenient on-the-go solution for maintaining a robust immune system.*
In addition to the Immune System Tablets and Spray, Dr. Bertelli presents his Lymphatic&Veins formula, specifically designed to promote healthy lymphatic function and support the overall well-being of the circulatory system. This specialized blend combines hydroxytyrosol and hesperidin, known for their antioxidant properties, with carefully selected ingredients to optimize lymphatic health.*
By making these cutting-edge supplements available on Amazon, Dr. Bertelli aims to reach a broader audience seeking science-backed solutions to strengthen their immune systems.* Amazon's extensive reach and commitment to customer satisfaction make it an ideal platform for those who want to embark on a journey toward improved health and wellness.
Dr. Matteo Bertelli's dietary supplements have undergone rigorous testing and quality assurance measures to ensure the highest standards of safety and efficacy. As a trusted authority in the field, Dr. Bertelli emphasizes the importance of evidence-based nutrition and is dedicated to providing products that genuinely enhance overall well-being.
To learn more about Dr. Matteo Bertelli's Immune System Tablets, Immune System Spray, and Lymphatic and Veins formula, visit the official Amazon store at www.amazon.com/stores/page/59DAB2ED-0C2D-4914-9AFA-5281758DE062. Customers can take advantage of the limited-time promotional offers available during the launch period.
Links to single products:
*It is important to note that this article does not intend to provide medical advice, and the purpose of the summary of scientific bibliography is cultural insight. The article does not suggest that olive tree polyphenols or dietary supplements have therapeutic or preventive properties for any disease or condition. It is not intended as advice to use the olive tree or its derivatives in any modality or for any purpose. Only a physician and/or nutritionist can provide advice in the areas of nutrition, prevention, and health.
To learn more, we recommend visiting our websites:
magisnat.com and magisnat-rd.com
Our Social Media:
Media Contact
Company Name: MAGISNAT
Contact Person: Matteo Bertelli MD, PhD
Email:info@assomagi.org
Address:Atlanta Tech Park 107 Technology Parkway Suite 801
City: PEACHTREE CORNERS
State: GA 30092
Country: United States
Website: www.magisnat.com