Interview With The Author Ulrika Karlsson
Welcome back to the Relatable Voice! On today's roadtrip, the RV is picking up Ullis Karlsson in Sweden.  Ullis is a spiritual author, speaker, yoga mentor and the author of 3 books. Her latest book, The Sacred Soul is out now.
Hello author Ullis Karlsson, tell me about yourself.
I am an intuitive empath, who loves nature and yoga. I am a single mom of 2 teenagers, and everything I do to contribute to a better world are for them. They are my greatest teachers in life and also my biggest joy and inspiration. 
. Where are you from and where do you live?
I am from Sweden, right now as it is summer I live in my mobile home traveling around in Sweden to serene places and to be close to nature. Otherwise I live in Stockholm, capital of Sweden.
• What do you like to do in your spare time?
I love to be with my teenagers, and my puppy Daisy. I Love to be out in nature, to be Yoga and also to chill in front of a good movie with chocolate and my beloved ones/friends.
• Can you tell us a little bit about your journey?
Yes, burned out, stressed, panic attacks, depressed, sleeping disorders, suicidal (2:47am The Journey Home to my Heart). Turning point in the woods…
• If you had to describe yourself in three words, what would they be?
Intuitive, Empathetic & Free.
• What inspires you?
Nature, and its brilliance how everything works without anybody doing anything… I am also inspired by conscious, soulful, free and brave people, who in their own way make a difference to create a better world for the many.
• How did you get into writing ?
I was on a tv show for my sleeping disorders, and people connected with me afterwards and they were wondering where they could read a book about me. When I answered that there was no book, they said well, do it – we want to read it .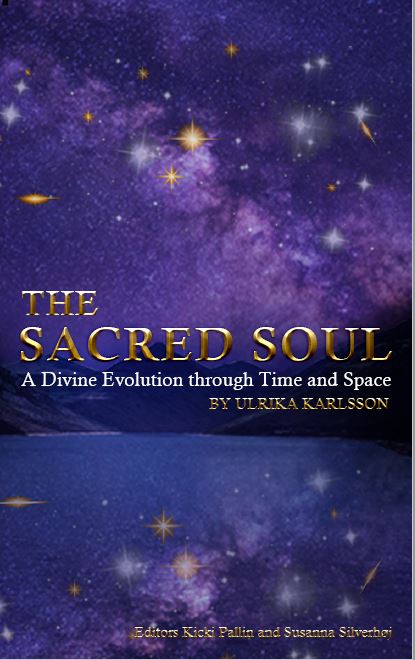 • Can you tell us what inspired your book The Sacred Soul and what is the story behind it?
Yes, this latest book The Sacred Soul – A Divine Evolution through Time and Space is sadly enough inspired by the mess we see in the world today.  And how we as individual Souls can contribute to clear this mess, to create something better instead… How I with all my books, all my line of work can contribute to guide others -individually and collectively – into higher states of consciousness. To be an assistant in the collective ascension process.
Karma clearings is one tool to do that. As I did my own, and reclaimed who I truly am at a Soul level -I want to give others the same opportunity, so they too can be more Sovereign, happy and free.
• Are you working on anything at the present you would like to share?
Within five days I have had 3 books releases for 2 different books so now I am going to take a lone summer holiday … Then I will start to write about consciousness – and energy work for children and teenagers.
To start to do teacher trainings again..
. What are your goals and aspirations?
To leave this world a better place than this shit we all have created… To aid this global ascension process, one Soul at a time. Simply said, to increase consciousness. And it is always a n inside job to create the changes we want to see. Changes always starts within.
• Where can our listeners connect with you online?
Website www.ulliskarlsson.com
Fb: https://www.facebook.com/profile.php?id=100000261784102
Instagram: ulrikaulliskarlsson