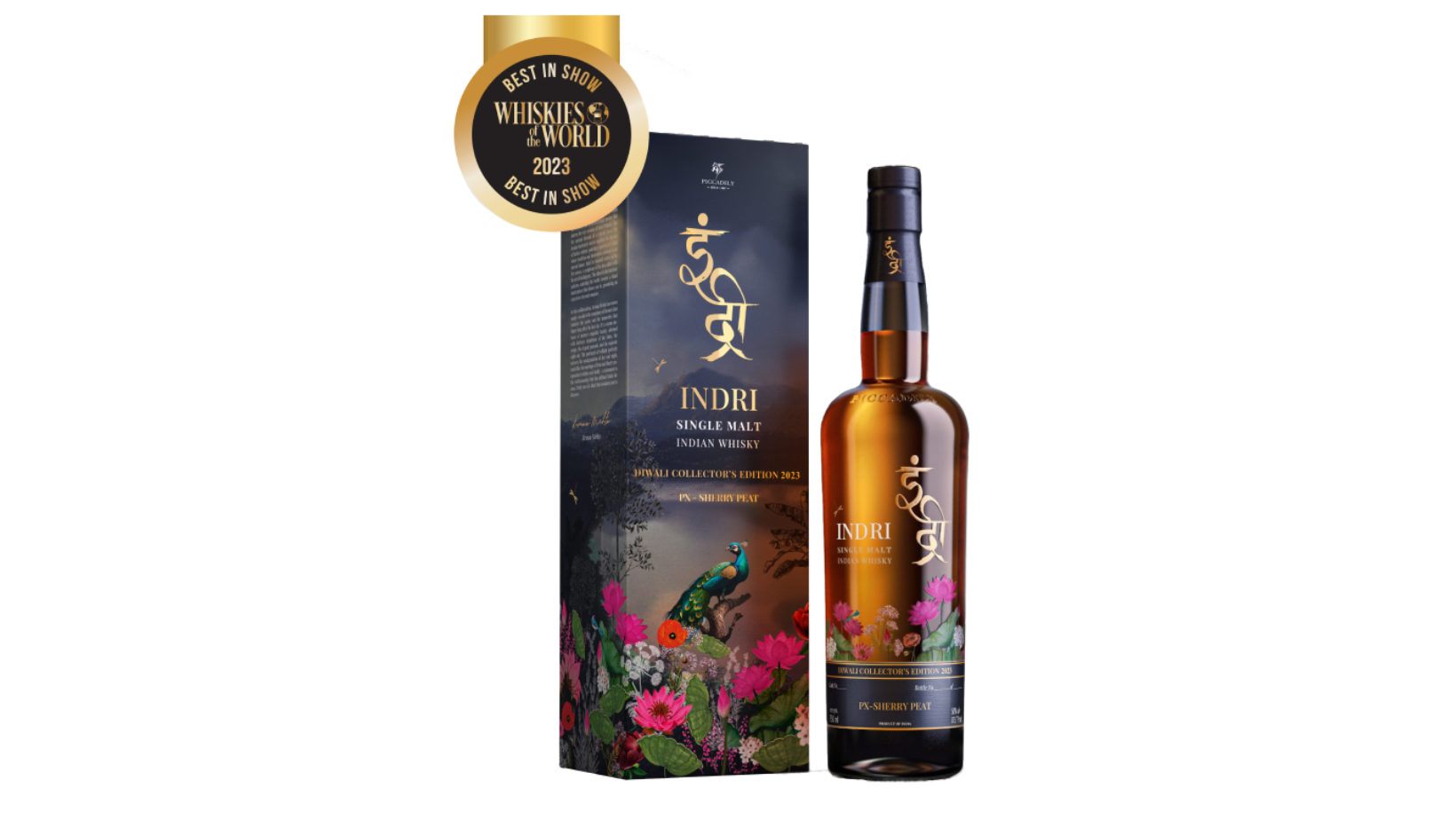 Indri Diwali Collector's Edition 2023 Named World's Best Whisky at Whiskies of the World Awards
India's Indri Diwali Collector's Edition 2023 has achieved the remarkable feat of being crowned the world's best whisky. This prestigious recognition was bestowed upon Indri at the highly regarded Whiskies of the World Awards, marking a significant moment for the Indian single malt whisky industry.
Indri, a brand from Piccadilly Distilleries, has made substantial strides in the whisky world, showcasing India's growing presence in the global spirits arena. The Diwali Collector's Edition 2023 from Indri emerged as the standout performer at the awards ceremony, securing the coveted 'Best in Show Double Gold' accolade.
The journey of Indri began with the introduction of the first triple-barrel single malt whisky from India, named Indri-Trini, in 2021. Since its inception, this homegrown brand has garnered an impressive tally of over 14 international awards, a testament to its commitment to excellence and innovation.
The whisky landscape in India has witnessed a burgeoning market of enthusiasts who appreciate a diverse range of whisky styles, including single malts and blends. Indian whisky brands have taken center stage, often infusing their creations with distinct regional flavors and aromatic profiles that captivate connoisseurs worldwide.
The award-winning Indri Diwali Collector's Edition 2023 is a peated Indian single malt crafted from six-row barley and distilled using traditional copper pot stills in India. This exceptional whisky offers a harmonious blend of flavors, including notes of candied dried fruits, toasted nuts, subtle spices, oak, and bittersweet chocolate, among others. It has been meticulously aged for an extended period in PX Sherry Casks within the unique sub-tropical climate of North India.
Indri's achievement at the Whiskies of the World Awards not only underscores the brand's dedication to crafting exceptional whisky but also highlights India's growing influence and reputation in the global whisky landscape. It is a testament to the craftsmanship and innovation within the Indian whisky industry, offering enthusiasts a taste of the rich and diverse world of Indian single malts.