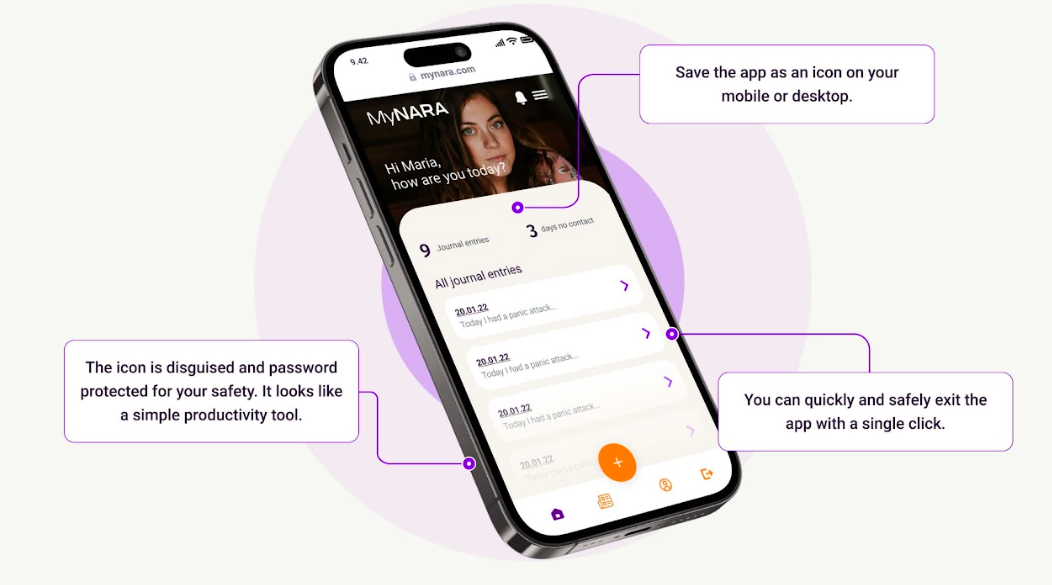 Five Apps Dedicated to Supporting Domestic Violence Victims
Domestic violence victims often face daunting challenges as they seek safety, support, and a way to rebuild their lives. Recognizing this, innovative minds and compassionate hearts have developed a range of apps dedicated to providing crucial assistance to those affected by domestic violence. These apps are not only technological marvels but also symbols of hope, resilience, and community. In this article, we will explore five remarkable apps that are making a significant impact in the fight against domestic violence. From recovery and empowerment to digital privacy and pet safety, these apps address various aspects of the struggle, offering a lifeline to those in need.
Take a look at these five apps dedicated to supporting domestic violence victims:
1. MyNARA
MyNARA, an app designed for victims of narcissistic abuse, was launched in June 2023 by Emma Davey, a domestic abuse survivor and award-winning Narcissistic Abuse Recovery Therapist. MyNARA offers a Recovery Toolkit for free subscribers, featuring ample data storage. Opting for a paid subscription grants access to the comprehensive NarcArmour™ 12-phase recovery program, providing evidence-based therapeutic support for narcissistic abuse recovery along with additional cloud data storage. This program is enriched with instructional materials, videos, and tools, ensuring users never feel isolated or stagnant in their healing journey. The app serves as a secure haven for survivors to confidentially store evidence of abuse, employing top-tier encryption measures. It also provides on-demand expert guidance from qualified counselors, a wealth of resources for growth and resilience, and progress tracking capabilities. Having received 100% positive feedback from over 1,000 active users, MyNARA has proven to be an invaluable support system, hailed by many as a 'lifesaver'.
2. BestyBnB
BestyBnB is creating a community where domestic violence survivors can find temporary housing for their pets. The company allows partnered domestic abuse shelters and other charitable organizations to search for animal caregivers in their network. Statistics show that victims often hesitate to leave their abusers due to concerns about their pets' safety if left behind. The program aims to remove this barrier, enabling individuals to secure safe housing and distance themselves from their abuser with the assurance that they can reunite with their beloved pets later.
3. LadyDriver
LadyDriver is a ride-sharing app that prioritizes the safety of women passengers. Committed to providing women with a sense of security during their journeys, LadyDriver connects riders to a network of female drivers, establishing a safe and comfortable space for women to travel. Whether it involves the daily commute, attending social events, or running errands, LadyDriver guarantees a trustworthy and empowering transportation experience for women. The app's inception, sparked by Gabriela Corrêa's own unsettling encounter with a cab driver outside a bar, has resonated with hundreds of thousands of users, solidifying its position as the world's largest women's transport app. Its primary dedication lies in safeguarding women's freedom of movement.
4. TechSafety
The TechSafety app is a comprehensive tool,  created by the National Network to End Domestic Violence, and is designed to empower individuals in protecting their digital privacy and security, especially in situations involving domestic violence or stalking. It offers a range of features, including guidance on securing personal devices, advice on adjusting privacy settings, and tools for creating a tailored safety plan. The app also provides resources on secure communication methods, recognizing signs of cyberstalking, and information about legal protections. Additionally, it directs users to local and national organizations specializing in digital safety and offers educational materials to enhance awareness about online risks.
5. myPlan
The myPlan App is a free mobile app designed to support individuals who are experiencing or have experienced domestic abuse. The tool is accessible via a mobile app and website, and designed to assist intimate partner violence (IPV) survivors in identifying and navigating their own safe path forward. Typically, individuals seek safety planning through conventional support channels like hotlines, shelters, and domestic violence programs. However, a significant number of survivors never avail themselves of these resources; neglecting to mitigate violence and its detrimental effects. Navigating relationship abuse can be challenging and so creating a safety plan is pivotal in addressing intimate partner violence. My Plan assists users in assessing the safety of their current relationship and provides guidance on creating a personalized safety plan.