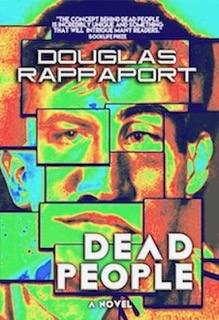 Douglas Rappaport is The Author Of The Week
DOUGLAS RAPPAPORT was originally a classically trained violinist and composer, having studied as a young man at various conservatories in the U.S. and abroad. During his college years, Douglas studied under famed protégé of Jascha Heifetz, Erick Friedman, and after graduate work at Yale University, went on to U.S.C. where he received an Advanced Studies degree in Film and Television Scoring. He also studied at Goldsmiths College (part of the University of London), Guildhall, and London International Film School, amongst others.
Concerning Douglas Rappaport's 2003 debut novel, One Day the Weatherman, Absolutewrite.com wrote: "Rappaport's work is very detail-oriented and his writing is extremely descriptive; it makes for incredible realism…." His second book, Victim of Circumstance, climbed to #2 on Amazon's Free Kindle bestseller list (nonfiction) in 2014. Rappaport's third book, Reckoner, hit No.1 on Amazon's New Releases in Teen & Young Adult Fiction about Drugs & Alcohol Abuse days after its pre-release. The novel also received positive reviews from Midwest Book Review and the Booklife Prize 2020 to name a few. Douglas's short fiction has also earned several distinctions including an invitation to the exclusive Sirenland Writers Conference in Positano, Italy. 
Douglas Rappaport's most recent novel, Dead People, was published by Viking Dog Entertainment in November of 2021.
Can you tell us a little bit about your journey?
I started writing when I was a little kid, mostly writing short stories and eventually a novella. Most of my books are novels, with the exception of one non-fiction book, which was mostly about my love life and the death of my mother. When I was 9, I started playing violin and became very serious very quickly, spending most of my childhood practicing and performing violin professionally. As an adult, I worked in the video game industry for over 20 years.
What inspires you?
Books by John Irving and Haruki Murakami. Radiohead and Sigur Ros. Patrick Mahomes and Lamar Jackson (I'm a big NFL fan. Coincidentally, the protagonist in Dead People is a former NFL player, now turned professional hitman.)
Where can readers learn more about your books?
on Amazon
Find more about Douglas on: LinkedIn: Douglas Rappaport
Instagram: rappapod
Facebook: Rappapod