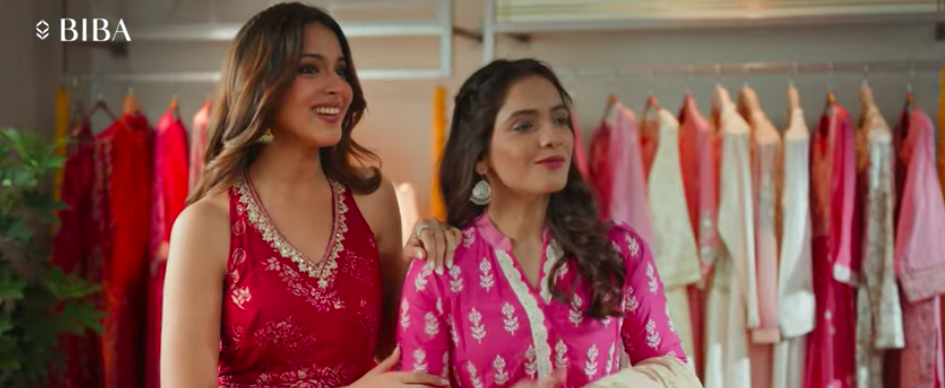 Biba's Commitment to Diversity: 'Har Nazar Mein Kuch Naya'
The brand Biba has been recognized as a pioneer of diversity and inclusivity. On October 19, Biba announced its brand film 'Har Nazar Mein Kuch Naya' across its social media platforms, encapsulating its ethos of celebrating individuality through style. This visual masterpiece seamlessly blends together Biba's latest collection, encompassing the freshest trends and a kaleidoscope of styles designed to cater to every occasion.
The film presents a treasure trove for fashion enthusiasts, offering a diverse range of apparel options. From Kurtas to Suit Sets, Fusion wear, Work wear, Smart casuals, and even options for Moms and their little ones with 'Mom & Me' and 'Biba Girls,' the brand leaves no style stone unturned. But it doesn't stop at clothing alone; the film showcases an impressive selection of jewellery, footwear, handbags, and perfumes – the perfect companions to accentuate and complete your ensemble.
Biba's brand film comes as a breath of fresh air, positioning Biba as the ultimate fashion destination, a one-stop shop for a display of collections. From chic workwear designed for the modern woman's dynamic lifestyle to cozy yet stylish casuals, the brand extends its offerings to glamorous festive attire that ensures you shine brightly during special occasions.
Siddharath Bindra, Managing Director of Biba, eloquently encapsulates the essence of 'Har Nazar Mein Kuch Naya,' saying, "At Biba, we believe that fashion should be inclusive, diverse, and a canvas for expressing your unique individuality. This film is not merely a visual treat; it's a jubilation of each person's distinctive style and their remarkable journey through life. We are thrilled to present our extensive range, available in our stores, designed to cater to the diverse fashion needs of every Indian woman. From everyday casuals to airport looks, workwear to festive ensembles, and even attire for grander occasions – we have it all."
Biba has always been a brand known for its commitment to diversity and the celebration of unique styles. The 'Har Nazar Mein Kuch Naya' film is a testament to this philosophy and an invitation for all to embrace their individuality through fashion, no matter the occasion. The brand continues to redefine fashion in India, making it more accessible and exciting for everyone.