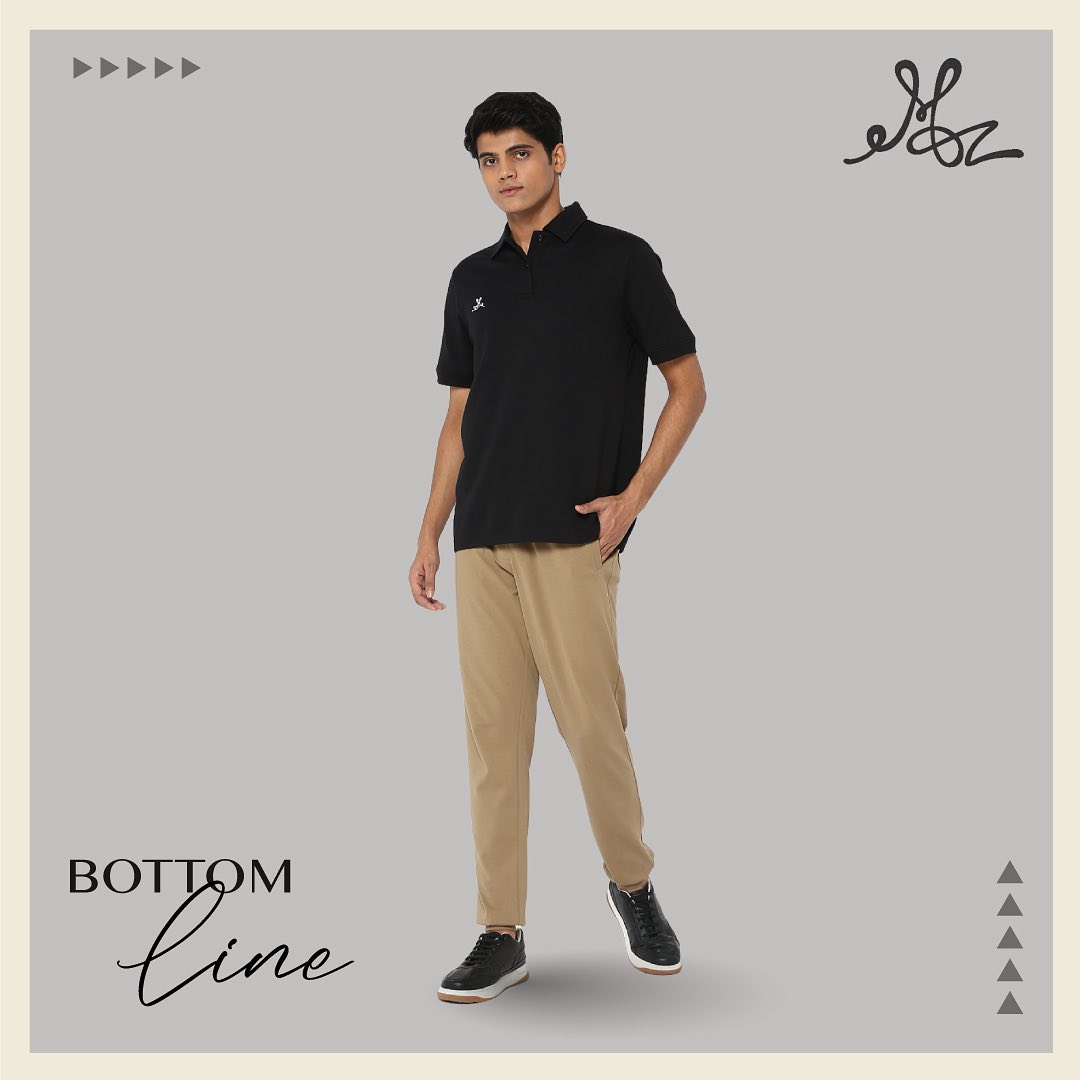 Attention Men, Joggers are the New Fashion Statement
Dear men,
You slay in joggers
Love,
Us!
We cannot emphasise how much we love this semi-casual style on our men. The possibilities of combinations, scenarios you can wear them in and the unmatched comfort of them – simply incomparable.
Contemporary joggers are super stylish, uber comfortable and exceptionally versatile and easily available.
Know your joggers' origin:
Did you know, joggers came into existence a long time ago, in the 1920s? They were called sweatpants back then and the first pair was introduced to the world by Frenchman Émile Camuset, the founder of Le Coq Sportif. These were simple knitted grey jersey pants that let athletes stretch and run comfortably.
The sweatpants evolved with time and became staples in wardrobes across gender. It was only recently that they were accepted as part of haute couture.
We call them joggers now, and they have, like we mentioned earlier – evolved. They are generally baggy on the top and skinny at the bottom with an elastic cuff at the bottom.
Made for physical activities, joggers give you maximum comfort and mobility as the cotton, fleece and polyester are the fabrics most used.
From being part of every athlete's staple, joggers have now spread to be part of celebrities' and youngsters' fashion go-to.
Stylish and comfortable, here are the top reasons to give joggers a try:
– Comfy as clothes can get: Who can deny the comfort of joggers? You can wear them all day long and still not find them irksome. They are relaxed and let your skin breathe.
– Perfect for everyone: Joggers are unbiased sweethearts that love equally! Their roomy silhouette ensures that they look superb on every body type. They come in a wide variety of designs to choose from. Something for everyone is the Joggers' mantra.
– Stretchy at the right places: Made of comfortable fabric, joggers' stretchable waistbands help to give a more comfortable fit and are easy to wear as well.
– Totally trending: Wear it with your regular tees or amp it up with a sweatshirt, you are bound to look like the coolest bloke around… unless another jogger toting guy comes by… then both of you will be the coolest around!
–Value for money: Most joggers come at affordable rates (about Rs 500 or so). And they are really durable. So you can get value for your money – total win!
– Colour me happy: Who said men need to be dressed in black, browns or boring greys anymore? The range of colours that joggers come in are endless. The world is your rainbow, go pick one or seven in your favourite colour!
If you are looking to buy joggers online, remember to keep these things in mind!
How to wear your fabulously comfortable joggers?
The beauty of a jogger is its versatility. You can mix 'n' and match it with almost anything.
With a little bit of ingenuity, almost any style can happen with joggers. Yes wearing as a formal attire is still not looked upon as proper, but maybe the day will soon dawn… one never knows!
Let's take a look at some inspiring pairing for you to pick and make your own:
Joggers with Hoodies: The perfect match – this is the stuff of dreams. There is zero decision fatigue involved when you combine your favourite hoodie with your uber comfortable joggers. For a Saturday brunch or a drive with the gang, it is perfect for everything.
Joggers with T-shirts: A close second, this combination adds the capital C to Casuals! If you wear a printed tee with joggers you will be as comfy as can be and then, when you choose a polo shirt, you amp up the quotient enough to elevate the casual look.
Joggers with Shirts: Think of a preppy shirt worn with uber cool joggers. Difficult to imagine? Don't worry over much, just trust us on this one. All you need is a pair of nice button-up shirts in simple pastels paired with dark joggers and you are good to go!
Joggers with Jackets: For those chilly evening dates, ramp up the casual with a snazzy leather jacket over your t-shirt and joggers. Look as badass as can be, while having the advantage of being super comfortable and true to your being.
Joggers with Sneakers: Hey, we talking complete ensembles here, so how can we miss out on the footwear? The beauty of joggers (yes, we know we have said this over and over again, but we simply cannot get over its amazing-ness) is that you can wear it with almost any kind of footwear. Casual slip-ons – check, sandals and floaters – check, sleek sneakers – check, semi-casual cut shoes – check. You name it, you can rock it!
We truly believe that if we had to pick a single type of pants for the rest of our life, joggers would probably be our number one choice. They are, without a doubt, one of the greatest pieces of men's fashion, ever.
Everyone ready to invest in a pair of their very own joggers, say AYE! To buy joggers online, check out our exciting range at Muvazo!