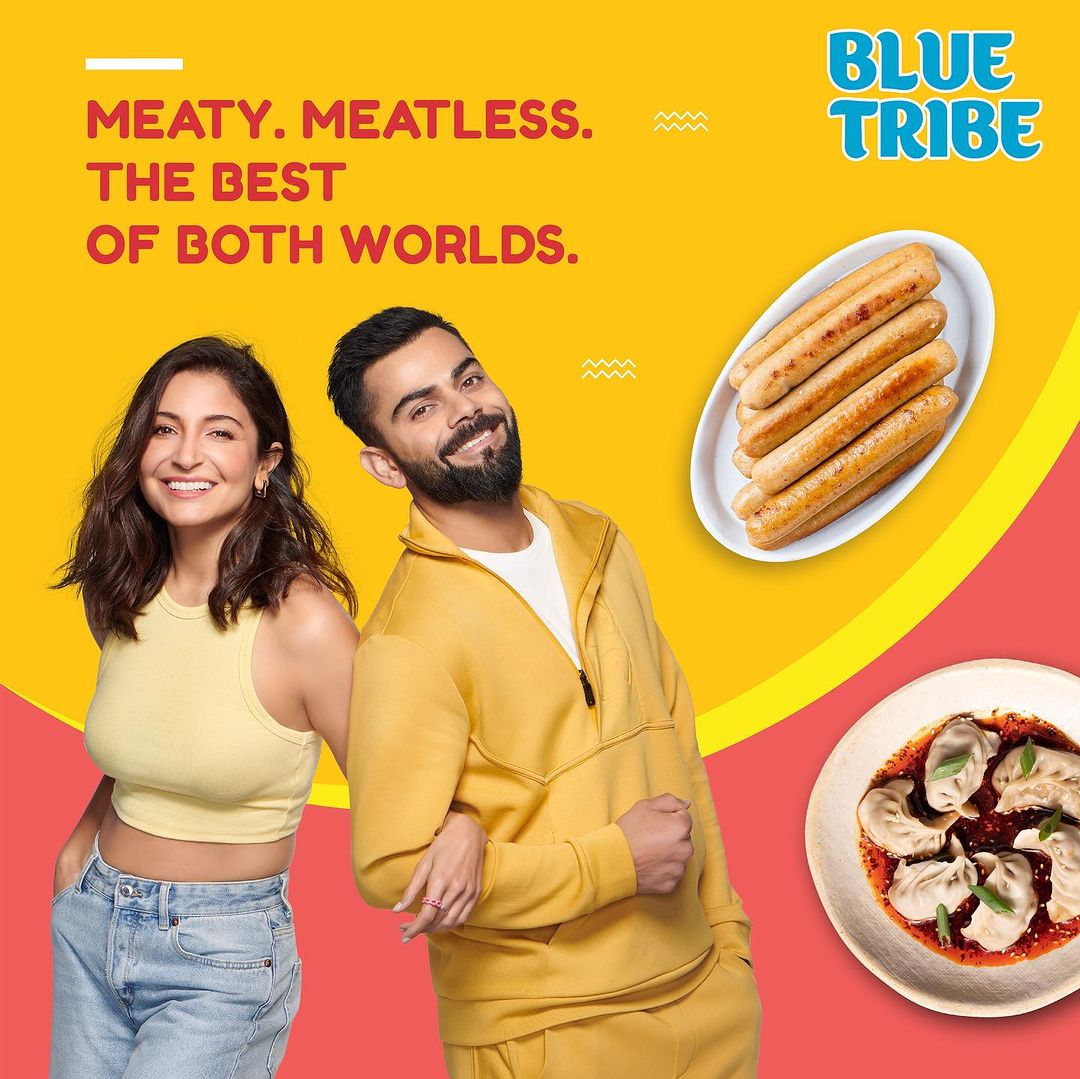 Anushka Sharma and Virat Kohli's Blue Tribe Foods Earns Sustainability Seal
In recent years, the global shift towards plant-based diets has gained remarkable momentum, driven by a multitude of factors, from personal health considerations to environmental consciousness. This shift has given rise to a booming industry of plant-based meat alternatives, offering consumers a delectable way to savor the familiar flavors and textures of meat while aligning with their values.
India's very own Blue Tribe Foods, a plant-based meat brand backed by Bollywood star Anushka Sharma and cricket legend Virat Kohli, has taken a monumental step towards sustainability by achieving carbon and plastic neutrality. The prestigious Sustainability Seal has also acknowledged the brand's unwavering dedication to eco-friendliness, recognizing its innovative and environmentally conscious products.
Amidst the alarming statistics of plastic waste, where 2.26 million tonnes of plastic packaging are estimated to be produced in 2022-2023, companies like Blue Tribe Foods play a pivotal role in shaping a more sustainable future. Their commitment to reducing carbon and plastic footprints highlights the need for businesses to take active responsibility for environmental preservation in our polluted age.
The Sustainability Seal bestowed upon Blue Tribe Foods by TDC (The Designers Collaborative) serves as a testament to the brand's relentless pursuit of producing delectable plant-based meat alternatives that are innovative and eco-friendly. As India's first Plastic Credit platform, TDC empowers businesses with the tools and resources needed to eliminate plastic usage and champion environmental enhancement. Its stringent standards and reputable track record have made it the preferred choice for over 60 global brands.
Innovation has played a pivotal role in making plant-based meat alternatives more enticing to a wider audience in the food industry. Companies have invested heavily in research and development to create products that replicate traditional meats' taste, texture, and aroma. The endorsement and investment of influential figures like Anushka Sharma and Virat Kohli have catapulted Blue Tribe Foods into the limelight, further promoting the adoption of plant-based meat alternatives.
Founded by Sandeep Singh and Nikki Arora Singh, Blue Tribe Foods has emerged as a pioneer in the plant-based meat sector. They offer a delightful range of meat substitutes crafted from peas, soybeans, lentils, grains, and various vegetarian ingredients. These products not only tantalize taste buds but also contribute significantly to a greener planet.
What is particularly encouraging is that the popularity of plant-based meats is no longer confined to a niche market; it has garnered broad appeal across diverse demographics. As more consumers turn to plant-based alternatives for satisfying and sustainable meal options, it becomes evident that the world is increasingly embracing eco-conscious choices that benefit both health and the environment.
Blue Tribe Foods' journey towards sustainability sets a remarkable precedent for the industry and underscores the significance of responsible and ethical business practices in safeguarding our planet for future generations. With the support of influential advocates like Anushka Sharma and Virat Kohli, it is poised to reshape the future of food for a greener and healthier world.