A rare interview with Don Tarz, Malawi's top dancehall artist
A week ago, 4,500 people descended to Mangochi in Malawi to unwind after being under Covid-19 restrictions for close to 2 years. Dubbed Malawi's biggest festival, the Sand Music Festival attracted performers from as far as Germany and Jamaica, but one dancehall musician stood out from crowd with his catchy songs and stage act.
We managed to catch Don Tarz just before he left for Lilongwe, where he is based, to ask him a few questions.
The crowd went completely wild when you got on stage and even though some haven't yet performed it wouldn't be far off to say you're the highlight of the festival. How does it feel?
Feels great going in front of a crowd filled with people from all over the country and some from outside Malawi and making them all go crazy just like that. Some of them knew completely nothing about me it was their first time to hear about me and see me perform.
Tell us about yourself and how you got into music?
Don Tarz is a musical artist, Stage Master, Lyrical Genius, Rhyming Master, the unstoppable Malawian artist. He's so energetic given a platform anywhere as long as the sound output is perfect he is going to massacre the show.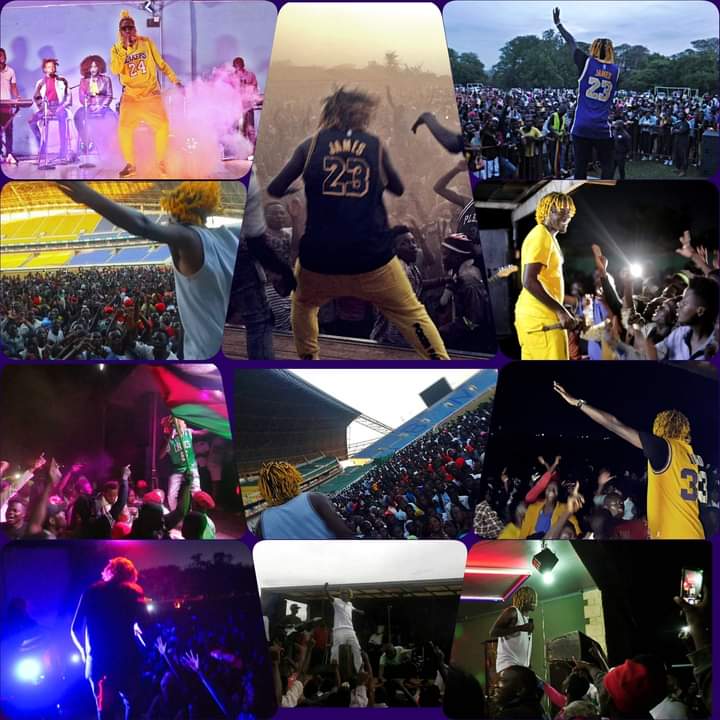 I started music when I was very young. I remember when I was 6/7 years old my brother would play a home-made guitar and I did the voices and we could record it using  a cassette player. I grew up in family of many kids – 8 boys and 1 girl. Reggae music was an everyday thing: every morning I used to wake up to some Bob Marley, Peter Tosh, Black Uhuru, Burning Spear, Shabba Ranks, Maxi Priest, Chaka Demus and Pliers blazing in the room.
I used to watch a lot of live performance videos like Reggae Sun Splash as well as the likes of Michael Jackson, Madonna, Lucky Dube live concerts so this thing got into my blood at a very young age. I decided to put the music side on hold up until I finished college because I realized that the whole thing needed a lot of money for recording and promotions.
I started a serious solo professional career as Don Tarz in 2013 at Warge records in Lilongwe here in Malawi.
You were put on the same day as Gramps Morgan, were you intimidated?
Putting me on the same day with a big artist like Gramps Morgan was a great honour for me. However, I'm never intimidated by anyone when it comes to stage performances because I have my own style and way of handling the stage.
If the equipment is good, and the voice output is perfect I have nothing to fear. I went on stage to represent Malawi on an international level so performing a few hours before the great Gramps was just perfect, and it has motivated me a lot. And I give thanks to the organisers for that opportunity.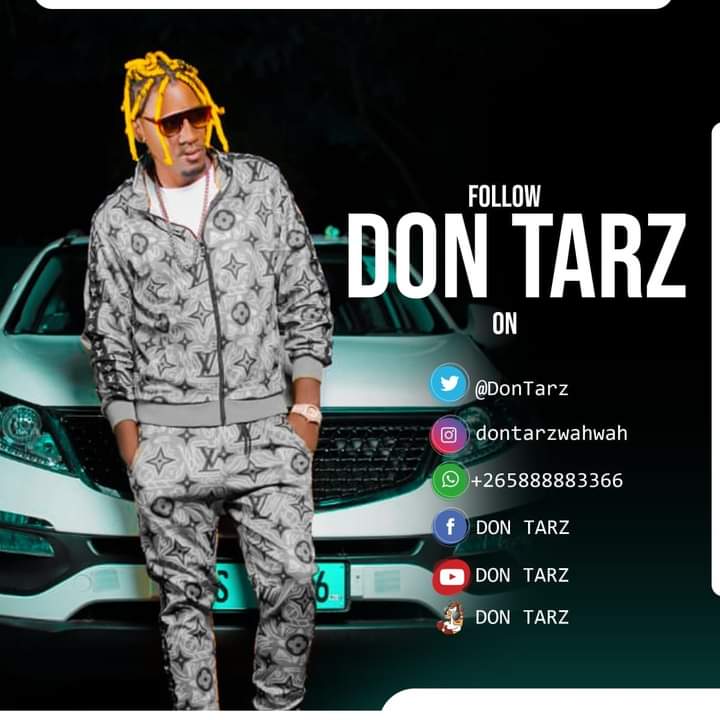 Which record label are you signed to?
For now, I work under my own label I called Lakersline. I manage myself but I have links with Tali Entertainment studio and HiPictures who offer me free services for recordings, pictures and some video shootings. I need more support to easily make it to greater heights with my music and I'm grateful for the support I get from  Tali and HiPictures.
How many albums do you have?
So far, I have only one album titled "Anapitadi". There's another one, a compilation of great songs called "The greatest of Don Tarz volume 1" but all in total I have almost 200 songs and this includes some collaborations.
What are you currently working on?
Right now, I'm working on shooting more videos for my songs. I'm also working on a live band performance video to be released this summer. I'm also working on a Make Juu (Junior's Mum) project which is a dramatized video series. Each one will have 5 episodes that is 5 songs all released as a storytelling video. It will be an on going project.
What would you like the world to know about you?
I want the world to know that I'm a general fit artiste and so fast to absorb an idea and turn it into a great song. All I need is a topic….a concept.. an idea and I will digest it and compose a great song in good time. I can perform at any event as long as I'm given the right conditions. I have a special gift I am a natural born performer.
You went on stage with a bottle, what was that all about?
That is a new beer called Shandie that Castel Malawi Limited is introducing into the market. A few friends tasted and loved so I thought it wise to hype it up seeing as one of the songs I performed last night is a party song.
If anyone wanted to get a hold of you, how would they reach you?
To link me up, the best is through my Facebook page "DON TARZ". Anyone can also link me through other social media platforms Twitter @Dontarz, Instagram dontarzwahwah, WhatsApp +265999869696, E-mail: lakersline@gmail.com
Also follow up some of my audios and videos on YouTube, malawimusic.com and Mikozi Network on Facebook, just search for DON TARZ.
Any last words?
My last words are that talent must be respected accordingly it doesn't matter where the artist is coming from. If someone is good, they deserve some good promotion (and respect). Countries like Malawi have sooooo much talent but for us to be exposed to the world is not easy because we are in the deep jungles of Africa. But we have hidden Messi's, Ronaldo's, Michael Jackson's, and Mike Tyson's but all we need is some special attention for us to be recognized out there. I performed at an event which had big names on international level from Jamaica, Nigeria, South Africa, Germany and Uganda, but I still managed to shine on the platform. 
This is the reason you're interviewing me out of all these acts here – and I feel honoured. A huge thanks to the organisers of the festival for considering me to perform here. We need more love and exposure and to be given full credits when we deliver accordingly.
I represent Malawi. I represent the Ghetto .I represent hidden talents. I'm Don Tarz. Wa!