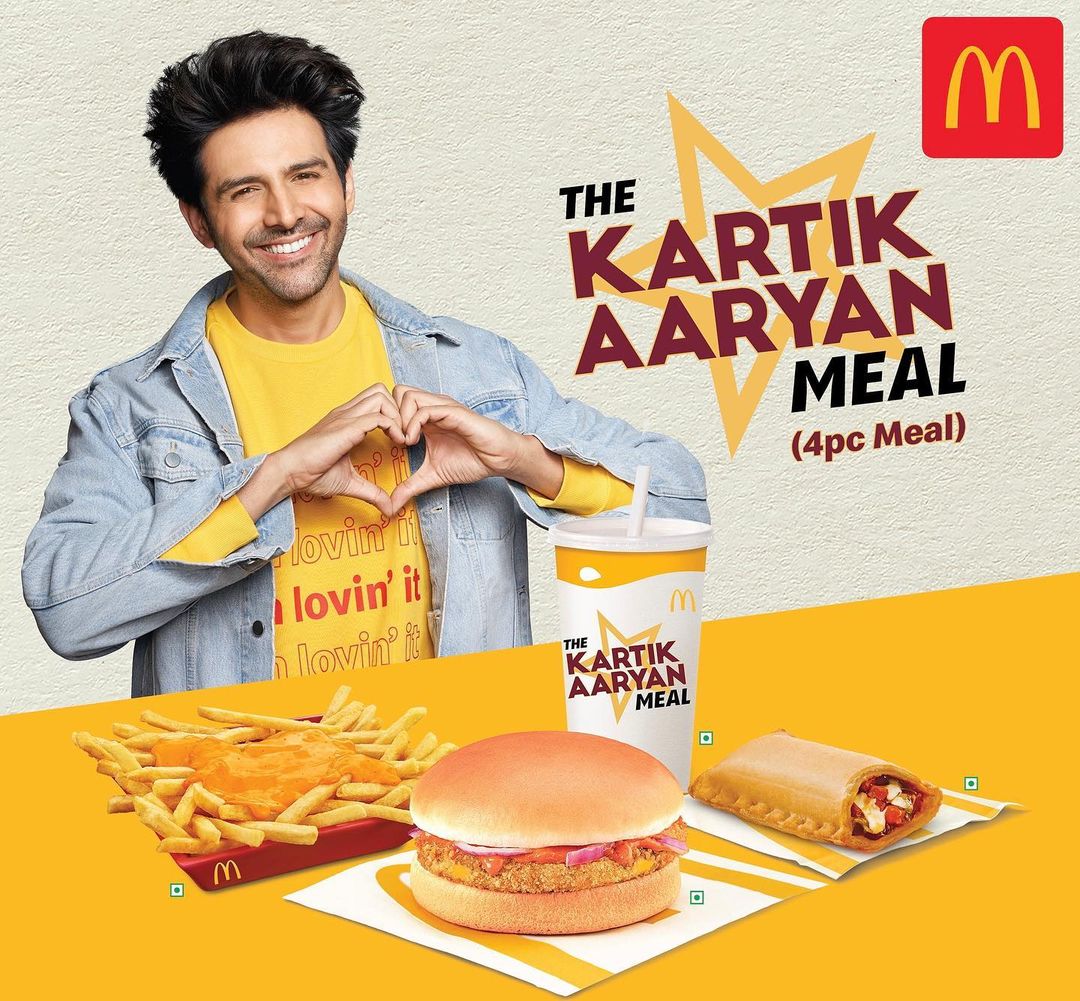 Try The Kartik Aaryan Meal for INR 179 at McDonald's India
McDonald's, the household name for fast food aficionados, is stepping up its game again with an offering set to delight taste buds and make wallets smile. Introducing "The Kartik Aaryan Meal," a four-piece culinary ensemble that brings together the favourite indulgences of the Bollywood heartthrob, all at an incredibly affordable price of just INR 179.
Carefully curated to encapsulate his palate preferences, this meal is a symphony of flavors that promises to cater to the cravings of both food enthusiasts and Kartik Aaryan's fans alike.
The composition of The Kartik Aaryan Meal is as enticing as it gets. It comprises a delightful McAloo Tikki Burger, a scrumptious serving of Cheesy Fries, a delectable Pizza McPuff, and a refreshing regular beverage to wash it all down. The best part? This exquisite spread is available at an astonishingly reasonable cost of just INR 179, making it an irresistible deal for foodies and value-conscious diners.
Rajeev Ranjan, the managing director of McDonald's India – North and East, shared his enthusiasm about this innovative collaboration, stating, "What unites all our customers, fans and famous celebrities, is that everyone has their go-to McDonald's order. We are excited about this collaboration with Kartik Aaryan to bring his favourite go-to McDonald's order for our customers."
Adding a touch of flair to this offering is the Kartik Aaryan-themed packaging. Enabled with a QR code, this packaging doesn't just protect the meal, but also invites fans to take a virtual selfie with the charismatic brand ambassador himself. It's a testament to the fact that the meal goes beyond just food; it's a complete experience.
Kartik Aaryan, the man of the moment, couldn't be more thrilled about this collaboration. He expressed his excitement, saying, "I am thrilled to see my favourite McDonald's go-to order come to life. I have enjoyed the McAloo Tikki burger, beverages and Pizza McPuff for many years. And to add my recent favourite – Cheesy Fries, the combination makes for a delicious, perfect go-to meal. I am very excited to share my McDonald's go-to order with my fans."
Furthermore, for those who prefer the comfort of their homes, this delectable meal can be ordered through popular food delivery platforms such as Swiggy, Zomato, and Magic Pin.
McDonald's India – North and East has truly hit a home run with The Kartik Aaryan Meal. It's not just about the taste, but the experience of indulging in a meal that brings together the actor's favorites with pocket-friendly pricing. A combination that's hard to resist, this meal is a culinary journey that embodies both value and delight.