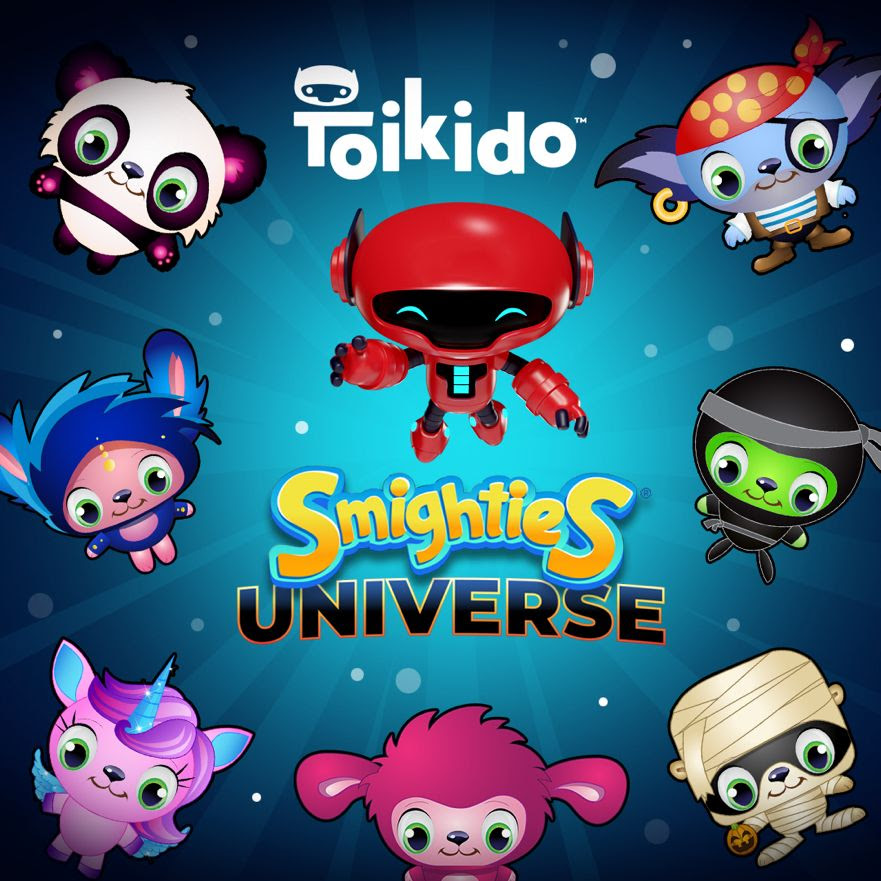 Toikido to bundle NFTs with plush toys
Toys and entertainment merchandise specialist Toikido has secured global rights from Reality Gaming Group and Herotainment to create high quality, officially licensed Smighties toys and merchandise bundled with NFT collectibles, bringing the world of physical toys and NFTs together for the first time at www.Smighties-Universe.com.
The partnership represents Toikido's entry into the exciting world of NFTs, with the Smighties toys available globally from April 2022 at major retailers. Toikido's initial Smighties product line-up will include, but not limited to, plush, collectibles and trading cards. It will then expand into other core categories globally.
Each Smighties toy will come bundled with a QR code directing its owner to the online portal for Smighties-Universe – a blockchain-fueled experience where fans can collect digital versions of their favourite Smighties characters. Owners of Toikido's Smighties toys will be able to claim a free NFT based on one of the hundreds of adorable and quirky Smighties-Universe characters.
Each Smighty character in the Smighties-Universe is tokenised into a Non-Fungible Token (NFT), which means it is secured and protected on the blockchain, providing documented ownership indefinitely – Smighties are 100% owned by collectors.
Moreover, Smighties-Universe digital collectibles are one-of-a-kind and cannot be copied, which makes them scarce and potentially valuable. There are over 136 unique characters to collect with different attributes, powers and strengths. Each Smighty can also be categorized by their element and by their rarity, including Epic ones. All Smighties NFTs are available to purchase now at https://smighties-universe.com.
Smighties-Universe is developed and published by Reality Gaming Group in partnership with New York-based entertainment company Herotainment.
Darran Garnham, Founder & CEO at Toikido, said: "The expansion of digital IP into physical products is a key focus for Toikido. Its something I have been close to throughout my career from Pokémon, Yu-Gi-Oh! through Moshi Monsters and more recently Among Us. We have been following the NFT space closely for some time and believe it will shape innovation in gaming, entertainment, sport, trading and collectability and more in the coming years. The teams at Herotainment and Reality Gaming Group have put together a vibrant and very collectible IP which is going to be great fun to bring to life."
Tony Pearce, Co-Founder at Reality Gaming Group, added: "We're delighted to have partnered with Toikido to bring the worlds of toys and NFTs together for the first time. Toikido has made a name for itself as a forward-thinking, innovative player in the toys space and we're sure fans of Smighties will be excited to own both a plush version of their favourite characters and a rare Smighties Universe digital collectible NFT."
Wade Teman, Co-Founder of Herotainment, offered: "Smighties fans have been clamoring for toys and we are thrilled to be partnering with Toikido to bring our beloved characters to collectors around the world. Combining physical Smighties toys with digital NFTs is a first and unique way for collectors to have permanent ownership of their favourite Smighties."
About Reality Gaming Group
Reality Gaming Group develops innovative games and marketplaces that combine the best of traditional gaming with new technology based on the blockchain and Non-Fungible Tokens (NFTs). We're currently working on NFT based trading card game Doctor Who: Worlds Apart and mobile AR shooter, Reality Clash. The Reality Gaming Group development team has more than 20 years' experience across Mobile, PC, Console, AR and VR games platforms. For more information, visit: http://realitygaminggroup.com/
About Toikido
TOIKIDO are a London based entertainment company at the cutting edge of digital design and toys. With a global reach TOIKIDO have an ecosystem across licensing, gaming, music and entertainment, TOIKIDO are passionate and knowledgeable with a culture and structure to move fast and be the partner of choice for the breakthrough brands that share our DNA. For more information, visit https://www.toikido.co.uk
Reality Gaming Studios and Sustainability
All Reality Gaming Group eNFTs, including minted Doctor Who: Worlds Apart cards, run on our own self-created "sidechain" of the Ethereum mainnet. This allows us to make substantial reductions to the amount of energy used per transaction. We have recently integrated with layer 2 network Polygon to further reduce these energy costs. Reality Gaming Group is committed to developing our "Game For Earth" energy plan and will continue to seek to minimise energy expenditure on all NFT projects. All non-blockchain data generated by Reality Gaming Group is stored and processed on servers that use 100% renewable energy.
About Herotainment
Herotainment, LLC is an award-winning, New York based transmedia and entertainment company. Herotainment's mission is to create multi-platform content and games with relatable characters and story lines. Millions of fans around the globe are highly-engaged with the brand. Herotainment's dynamic properties are being developed into books, music, mobile apps, licensed merchandise, a television series and more with leading global partners. For more information, visit http://herotainment.com