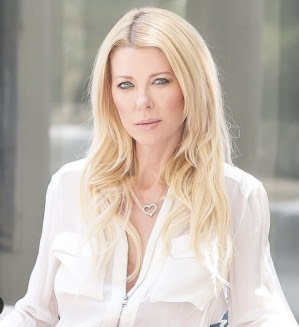 Tara Reid Opens Up About the Late DMX, Deepak Chopra & the Art of Ascension
The actress, producer, and pop culture figure opens up to syndicated entertainment columnist, Allison Kugel, about finding her way back from tabloid infamy.
Tara Reid burst onto the scene as the flawless blue-eyed babe of the iconic 1999 camp comedy American Pie, a Fast Times at Ridgemont High for twenty-something Gen-Xers and precocious Millennials. Her flawless all-American looks led to films from cult favorite The Big Lebowski, to Urban Legend, Van Wilder, Josie and the Pussycats, Dr. T & the Womenand My Boss's Daughter. She starred and held her own alongside Ryan Reynolds, Ashton Kutcher, Rosario Dawson, Kate Hudson, Richard Gere and other movie heavyweights.
And then… something happened. Reid was young, stunning and famous; and the media began taking more of an interest in her after-hours role as Hollywood's resident party girl.
A painful public breakup with then-fiancé Carson Daly and a bout with botched plastic surgery further spun Reid's public narrative out of control. She recently told E! news, "They almost make a cartoon character out of you, and they keep going with it," referring to the rampant tabloid journalism of the 2000s.
The experience sent Reid reeling, and into a self-imposed exile where she learned to reflect, regroup, and re-emerge focused on her craft, and with a healthy sense of humor as she displays in her willingness to embrace the camp genre with the Sharknado film series. In addition to working in front of the camera, she's added film producer to her resume, with an upcoming slate of releases under her production banner, Hi Happy Films.
The following are excerpts from internationally syndicated columnist Allison Kugel's latest interview, featuring Tara Reid. The interview is available for re-publication in its entirety, or in select quotable excerpts.

On working with the late DMX on his last film:
"It's a movie called Doggmen. It's his last film and it was really interesting, because he didn't get to finish the whole film. They had to do what they did with Paul Walker (in his last Fast & Furious role). They make these facial sculptures and they put it on a face, and it looks exactly like him. It's crazy. The last couple of scenes that he has to film, that will be what they are doing. It's incredible and it looks so real. So, that is how they are going to film his last scenes, and I'll be in those scenes with him. I think everyone was absolutely broken by DMX's [death].  He wasn't just a great rapper, but he was a poet. I think he was one of the best rappers of our time, and this movie explains that. The last person that really did that was Tupac. I think it will be a great film. He's a great actor, he's a voice, and that mattered a lot to him. I think he will be really happy about how this movie comes out and looks. It's DMX, and just to be a part of that history with him is pretty much incredible."

On forgiving the tabloid media for how they treated her in the past:
"I didn't [for a long time], and I was upset about it when I was younger. But I realized the only way I was going to grow and get out of that situation was to grow as a woman. So therefore, I do forgive them now. I have moved on, and my press has changed. I'm not angry about it anymore. When you finally let something go, it goes. It's like taking a balloon and putting it up in the air, and it's gone. I'm 45 years old and I'm not a child anymore. I'm not the little girl from American Pie."

On one historical event she would love to witness if she could time travel:
"I wouldn't want to change anything, but if I were to go back in time to a historical event that was fun, I would have loved to have been Marilyn Monroe singing "Happy Birthday" to the president [John F. Kennedy] (laugh). It was such a legendary moment."

On freezing her eggs for a maybe baby:
"Will I have kids?  Let's see what is in store for me. It's not a no, and it's not a yes. I have gotten my eggs frozen so there is definitely the potential of that. If it is meant to be, it will happen. If not, I'm very comfortable where I'm at."

How prayer and listening to Deepak Chopra changed her life:
"I do pray, and who I pray to depends on what situation I am in. I pray to Jesus, but I also pray to my parents all the time. They are probably my number one. And I pray to my guardian angels; I pray to St. Jude, St. John, or St. Christopher. They have different meanings depending upon what you are in need of. I also listen to tapes by Deepak Chopra which has helped me tremendously. His tapes help you break down, 'Who am I close to? Who am I? What do I want? What do I not want?' And you really have to write it out in a diary form. My life started changing. A lot of us don't know how to direct that positive energy, and I think that he is someone that really knows how to give that to you."

About Entertainment Journalist Allison Kugel
Allison Kugel is a syndicated entertainment and pop culture columnist and author of the book, Journaling Fame: A memoir of a life unhinged and on the record. To date, she has interviewed 300+ newsmakers from film, television, music, world events, and pop culture. Follow her on Instagram @theallisonkugel and AllisonKugel.com.