Sandy Rodriguez is in The RV
• Hello Sandy, tell me about yourself.
I am a person who switched careers and countries in order to have more time to myself and a richer life. I was a newspaper editor in Mexico City for a decade and a half, then moved to Los Angeles and after many false starts found a new career path that I love, court interpreting. I got involved in many other interesting work and leisure activities, and also wrote a conversational book, with a light sprinkling of humor, titled Choose to Prevail.
. Where are you from?
I'm Mexican; my mother and father were born in Mexico. Many people don't realize it, but that country, much like the United States, is a melting pot, and I have Spanish, British, Italian, and certainly indigenous ancestry. However, I was randomly born in Puerto Rico, since my parents were there while studying towards their master's degrees; lived as a child in Philadelphia so that my father could get his PhD at the University of Pennsylvania, and later moved back to Mexico with my family. I spent some time several years ago in South Korea since I took part in a program at Seoul National University, and I have lived in Los Angeles for several years now.
• What do you like to do in your spare time?
I like working out, winemaking, and painting.
Busy, creative, sensitive
• What inspires you?
Everything I see. As a former journalist, I'm very interested in everything around, me everything that's going on.
• Share something your readers wouldn't know about you.
I mention many personal details in the book, but these are some things strangers might not know. I was once abducted. One of my best female friends was killed by the Egyptian army. I once interviewed Beyonce in her suite and saw her bare feet. I overcame a fear public speaking thanks to sleep deprivation. I won a trophy in a Nippon Kempo (a Japanese martial art) tournament. I owned an apartment which i rented out, and everyone who moved in got married shortly after.
• How did you get into writing ?
I started writing at 12, when I was hired as the Mexico correspondent for time-strapped people who wanted a LA-based magazine titled Young People Today.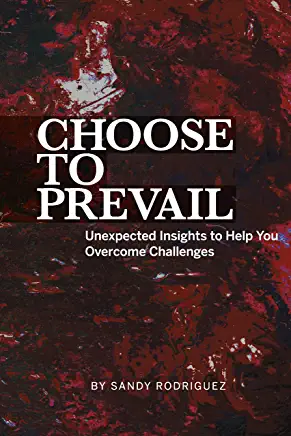 • Can you tell us what inspired your book and what is the story behind it?
I wanted to create a book to increase readers' levels of self-acceptance, self-confidence, and faith in the future. By design, I decided it would only be 100 pages long, so that time-strapped people such as myself would actually be able to read it from beginning to end.
• Are you working on anything at the present you would like to share?
A book-inspired video interview series is in the works. Find information at heartofhollywoodmagazone.com
. What are your goals and aspirations?
There's a saying in Spanish — "salud. amor y dinero" — health, love, and money. It would be hard to be unhappy when you have all three.
• Where can we connect with you online?
https://www.instagram.com/choosetoprevail/