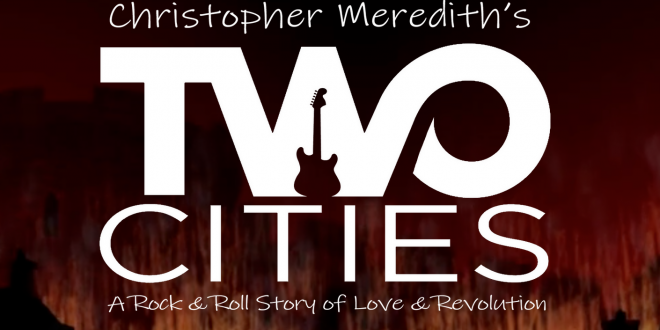 Rockin' Horse Productions LLC Founder Christopher Meredith Has Released His First-Ever Double Album Titled "Two Cities."
Nantucket Island-based composer Christopher Meredith has released his latest double album, "Two Cities," which is a Rock & Roll Story of Love & Revolution. There are 26 Original Songs and Story Narration that the talented musician wrote and adapted from the classic novel "A Tale of Two Cities" by Charles Dickens. "Two Cities" was created during the lockdown of the COVID-19 pandemic. Beginning with drums, it sets the tone for the rest of the track. Every new stimulus joins up incrementally… Blues riffs soar straight to the heavens, doing so in a beautiful and comforting way to witness. The album gives the feel of 70s classic rock as it grows steadily. A great deal of elegance is tossed into the mix, ensuring that not a single second is lost. Everything about the album is mesmerizing, and listeners will love it for sure.
Christopher Meredith is a professional composer, musician, producer, and inventor. He has over 40 years of experience, during which he collaborated on and participated in hundreds of music, dance, and theatre performances. He has performed and collaborated with several notable musicians, including Michael Murphy, Corky Laing, Leslie West, Felix Pappalardi, Steven Tyler, and Jimmy Buffet. He also had the honor of writing ten-minute musicals for Joseph and Gail Papp, who founded the New York Shakespeare Theatre in Manhattan. He now works out of a home studio that he built during the COVID-19 pandemic. His recent work includes live internet performances of original music in three-dimensional virtual worlds in over thirty countries. He also collaborated with G Tom Mac on the title song "Keep Your Eyes on the Prize" for the Beacon Films film "Grey Lady."
The singer intends to use the proceeds from the sales of "Two Cities" to fund a live concert and the epic album's first 3D web production.
His new album "Two Cities" is now available for purchase on his official website: www.2cities.net. Moreover, upon purchasing the double album and registering as a member, you become entitled to a complimentary ticket to his upcoming online event.