Jeseka Price, Publisher and Exec Producer Talks Music, Influence & Life with Brand.Education
Brand.Education sat down to talk with Jeseka Price, Founding Publisher of Price Royalty Publishing, Executive Producer and A&R for Amada Records, a sub-label underneath HUSH Media Networks.
Price Royalty Publishing is a black woman-owned, small business based in Houston, Texas. Price Royalty Publishing, Services a wide variety of clients and artists in the music industry – From Publishing, Sync opportunities, Promo, Pitching, Social-Music Marketing, Media PR services, Distribution, and Production Consulting
Hi Jeseka, Can you tell us what was your biggest fear prior launching your business "Price Royalty Publishing"?
I believe my greatest fear is still the fear of failure, which is a natural emotion…. But like my Dad says, "Nothing beats a failure but a try!"
How Do You Know Music So Well, Were You an Artist or Musician?
No, never an Artist, a Musician – Yes. My Mother and Father put me in piano lessons at a very young age. Then in middle school, my father basically told me that I was going to be in the band. I mean I've always loved music, I learned music theory around the age of 5. Around age 10, I recall creating my own mixtapes off the hits spun by my radio station. My parents were strict but not too strict, they let me find my way and do my thang, but only after I tried their way at least once. I mean, in hindsight I give my dad and Mom a lot of credit for putting me in a hobby that I wasn't really into, because those lessons most likely influenced, enhanced, and aided my overall ability to comprehend music so effortlessly and become the talented A&R and Aspiring Music Executive that I am today.
I've also studied music on various levels, but primarily Hip-Hop. Also, I must be pretty into music to write and blog my one-woman website to the top-ranking SEO for the past three years. Go check it out, it's called Jestificated.com and Jestification.com- I ran the stats up hitting #44 out of 100 of the Top Hip-Hop website/blogs Feedspots Top #100 Hip-Hop Blogs-BTW: "World Star Hip Hop" is ranked at #1 on the list. Now, when it comes to my passion for the genre of rap music -Rhythm, Bars, and Beats I just know them well. But I give credit to my older brother "J.P." he kept me "up-on game" and he always had all the latest and greatest CD's, Cassettes, Mixtapes from RUN DMC, NWA, and DJ Screw. I used to sneak-grab his EazyE "Eazy Duz It" tape from his room.
What Artists do you admire the most?
I admire any artist who is epic with the mic, instrument or both -but it's really all about consistency for me. I mean talent is great, obviously… but you won't gain an honest fan base or become the next M.J. if you can't keep up with the music industry while consistently putting out rhymes, beats, or dropping new Hits. Just look at the past history of artists, their success rate -along with the fact that they seem to chart on billboard every time while increasing their die-hard fan base at the same time. My favorite Artists: Drake -of course, Lil Baby, HER, Megan Thee Stallion, Da baby. crossover to Dua Lipa, Ariana Grande all the way to Mariah Carey, Kelly Musgraves, Taylor Swift, Kenny G, Tupac, Biggie, DMX, Jay Z (pre/post-retirement), or Kanye West (pre and post-creating secular music only). Oh, and genre-wise I love them all: From Trap, Rap, R&B, Pop, EDM/Dance, Country, Jazz, Rock, Reggae, Latin & Classical.
Who has been your greatest source of inspiration in general as a Female? And who influenced you in regards to the Music Industry?
That's always a hard question for me because I have many inspirations. Well First and foremost, I have to say my #1 Inspiration as a Woman is my dearly beloved Grandmother, "Blanche Maxine Felton Price" she was a school teacher and educator, actually! Unfortunately, she just recently passed away this week at the wonderful age of 95, "Maxine Price" was a Wise, Intelligent, Woman of God and the Best Wife, Mother, Grandmother, Aunt, Sister and friend that would try her hardest at her passion with practice, praise, and precision – Maxine was Priceless! I actually published a song for her just last year, prior to visiting with her around the same month of June/July. The song really uplifted her spirits and it's something that I will cherish forever because she would recite "Jesus Is Worthy To Be Praised" to me all the time. Near the end, she would say, "Jeseka you will never forget that, Grandma always said that," and of course I can only think of her even if it's the original song from the baptist choir. Anyway, I thought it was only right to name the song just that, I added her vocals on top of the beat, it was a bootleg production – more of a sentimental kind of thing that I rushed to mix/produce/publish and distribute right before going to visit her last year…which is when she became ill, so I wanted to show her the cover-art and listen to it together, so we would have something special forever, while also sharing her soothing yet inspirational voice with the world, her legacy & possibly new fans – I'm so glad that I did, no regrets.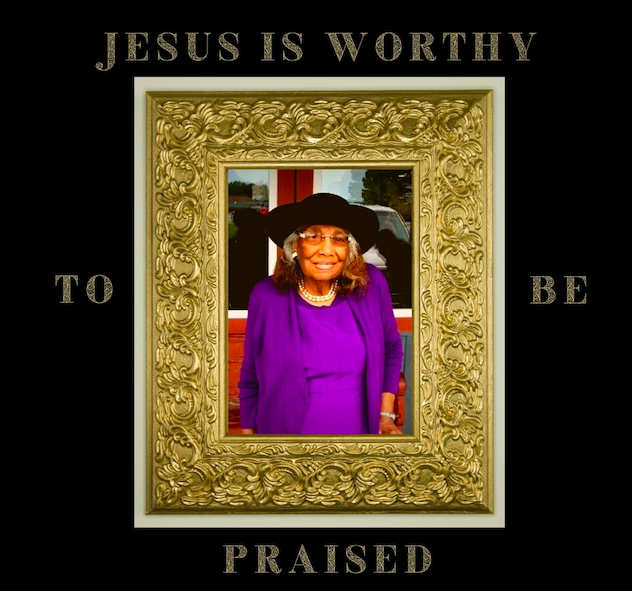 Music Partner & Mentor-wise, it would definitely have to be Cortez Farris (Multi-Platinum Engineer and Producer) and DJ Choice via The DJ GRID. DJ Choice and I work well together, in a variety of capacities for Hush Media Networks, where I'm also Trustee on the Board of Directors.
Another huge influence is actually my very-own cousin "Mercedes Funderburk", aka Mercy is a highly-respected and long-time Talent Director and Executive for Viacom: BET Networks, working for the Major Network nearly 20 years, prior that she was on Radio. Mercy has obviously worked her way up the ladder, and she is definitely one of the biggest female bosses in the music industry. A very well known one at that, not only by music executives within her network, but she's also known by some of your favorite Artists (most likely) -and they know her by first name basis. One thing that I will never forget is when I literally saw her in full-Talent Director mode at the 2018 BET Awards Pre-show.
If I can finish paying homage to my list of major music influencers and moguls that truly paved the way, not only for myself, but many others. Then they would be something like the following; Dr. Dre, J. Prince Sr., P. Diddy, Rick Ross, Master P, Alicia Keys, Jay Z, Beyoncé, Damon Dash, Jermaine Dupri, Kanye West, La Reid, and last but not least our black-female COO at Amada Records, Tiffany Gains, recently featured in Forbes Magazine for her accomplishments within the Music Business.
If you could give your younger self any advice, what would it be?
I would tell my younger self & aspiring youth/entrepreneurs: To Never Give Up; tough times don't last, but tough people do. So stick with your passion, welcome feedback, collaborate, stay positive & Know Yourself.
Jeseka's Music Affiliations, Organizations, and Associations:
Jeseka Price via Price Royalty Publishing, is an active Professional Voting Member of the: Music Publishers Association (MPA) LA Chapter, and also the Songwriters Hall of Fame (SHOF). Price is also affiliated with both Performing Rights Organizations as a Songwriter & Publisher with (BMI) and solely as a Publisher with(ASCAP). Jeseka is also a member of Alicia Keys organization She Is The Music (SITM), a member of TAXI and a Pro-Reviewer for Broadjam, Grammy District Advocate on behalf of the Recording Academy, Affiliated Publisher for the Harry Fox Agency (HFA), and National Music Publishers Association(NMPA) org.
Jeseka, thank you for your time and interview with us at Brand Education, we will definitely be in touch on your upcoming projects!
For More Info About Jeseka Price or Price Royalty Publishing, Links Below:
Facebook: @JesekaPrice
Instagram: @J2Pricey
Twitter: @J2Pricey
LinkedIn: Jeseka Price