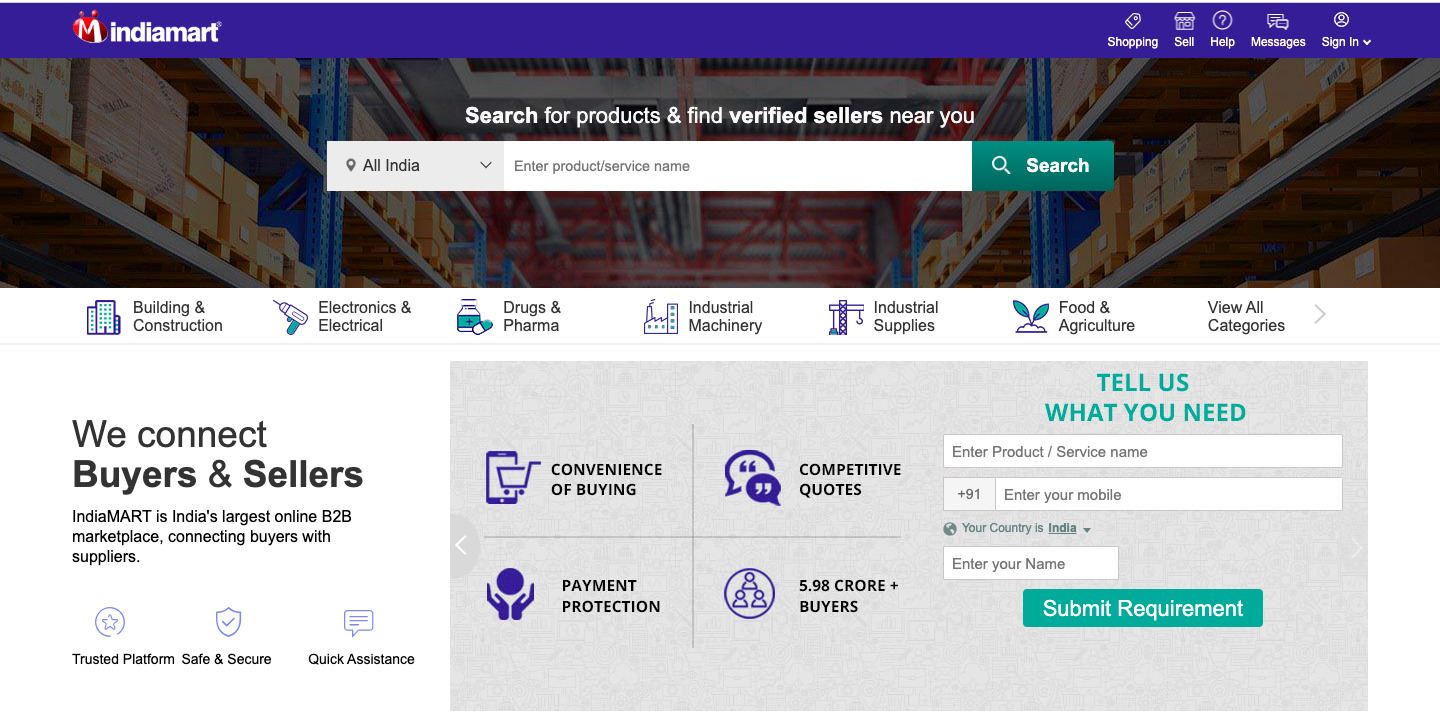 Indiamart is a B2B marketplace that connects buyers and sellers from all over India. It was founded in 1999 and is headquartered in Gurgaon, Haryana. IndiaMART has over 10 million registered users and over 50 million products and services listed on its platform.
Indiamart is a great resource for businesses of all sizes to find new customers and suppliers. It is also great for businesses to connect with potential partners and investors. Indiamart offers a variety of features and services to help businesses grow their business, including:
Online classifieds: Indiamart allows businesses to post classified ads for free.
Lead generation: Indiamart offers a lead generation service that helps businesses find new customers.
E-commerce: Indiamart offers an e-commerce platform that allows businesses to sell their products online.
Marketing: Indiamart offers a variety of marketing services to help businesses promote their products and services.
Payments: Indiamart offers a secure payment gateway that allows businesses to accept payments online.
Indiamart is a trusted and reliable platform for businesses of all sizes. It is a great resource for finding new customers, suppliers, partners, and investors. If you are looking to grow your business, IndiaMART is a great place to start.
Here are some of the pros and cons of Indiamart:
Pros:
Large user base
Wide range of products and services
Variety of features and services
Trusted and reliable platform
Cons:
Some fake listings
Can be overwhelming for beginners
Not as user-friendly as some other platforms
Too many marketing calls; if you have shared your number
No privacy or DND policy
A Review by Brand.Education Team
The Brand.Education team encountered challenges with Indiamart's customer privacy ethics. Despite our numerous explanations to their marketing team, we continued to receive a high volume of phone calls, urging us to register our products on their platform. In just 30 days, we received more than 30 to 40 calls, averaging at least one call daily. These calls came from different people using different numbers. We informed them that our number was registered on the DND (Do Not Disturb) list, but they persisted in their efforts to contact us. This type of bombardment with sales calls is unprofessional and can adversely affect a brand's reputation. In an era of growing privacy concerns, respecting customer preferences and avoiding excessive calling is imperative. Customers will register on their own if they find the service useful. We urge Indiamart to reconsider its marketing practices to avoid damaging its brand image.
Quality of Service/Product

Transparency/Accountability