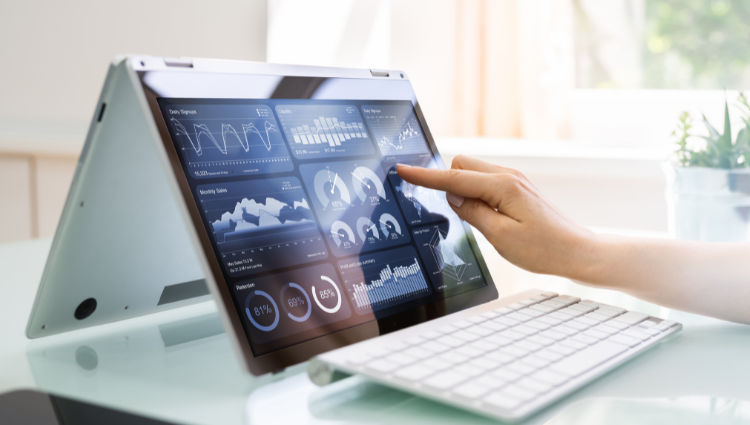 How much is our data worth? Checking news on Twitter for only 2 minutes generates $0,01 in revenue
heyData, leading data protection and compliance company experts from Germany, have published an analysis that reveals the monetary value of our personal data in revenues for the largest social media platforms. Using the information on revenue per user and average screen time, the analysis determines how much money platforms like  Meta, Twitter, TikTok, YouTube and Snapchat make from users per minute, hour, day, week, month and year. 
Exchanging data for the service social media offers generates billions in revenue
Social media companies make billions in revenue from the sale of targeted ad placements and the commercial exploitation of their users' personal data. These revenues are the result of modern day bartering: in order to spend time on the platform for free, we allow companies to track our data and display advertising. We provide consent by confirming the terms of use in the T&Cs. The business model pays off as the balance sheets of the major social media platforms show. Meta ended the 2021 fiscal year with revenue of $118 billion, TikTok turned over more than $58 billion in the same period, and Twitter generated about $5 billion in revenue.
How much is our data worth?
Based on average daily screen time and revenue per user, data from quarterly reports and annual financial statements, an estimation shows the value of the tracked data we share per minute on social networks.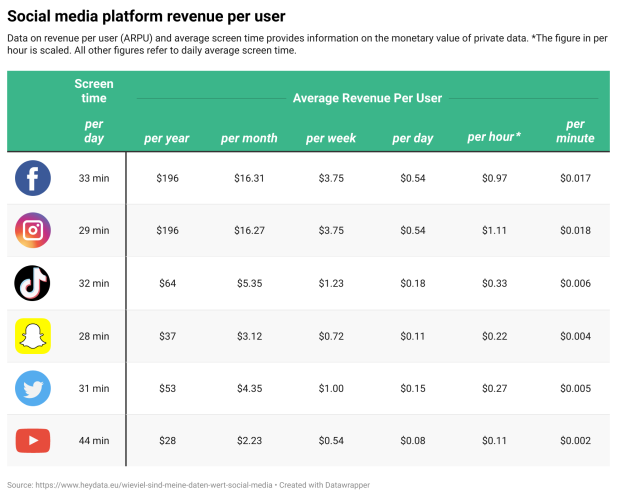 A single minute of data tracking by Facebook or Instagram generates around $0,02
The private data users generate within a year-period have different values depending on the platform that tracks the data, as the analysis shows. Social media pioneer Meta has perfected the marketing of personal data. After 365 days of tracking and with average screen time, Meta can market the tracked data for around $196. No other platform examined comes close to these revenue figures. The average user spends 33 minutes a day on Facebook and 29 minutes on Instagram. For every minute spent on the platforms, Meta earns approximately $0,02.
Private user data tracked within a year is worth about $65 to TikTok. An average user spends about 32 minutes a day on the social video platform of the Chinese company ByteDance. TikTok makes approximately $0,33 in revenue when users stay on the platform for an hour. The operators of the social networks therefore do everything they can to keep their users on the platform for as long as possible.
Two minutes of screen time is worth $0,01 cent of revenue for Twitter, TikTok and Snapchat
Twitter, TikTok and Snapchat need to keep their users on the platform for at least two minutes in order to earn $0,01. YouTube even requires five minutes of screen time to convert one cent. Although YouTube keeps the average user on its platform the longest at 44 minutes a day, Google's video portal can only market the data gained in the process for about $28 per user a year. Twitter makes about $53 in revenue per user in the same period. On average, a Twitterer spends 31 minutes a day on the short message service and shares data worth $0,15.
For more information on this data analysis see: https://www.heydata.eu/wieviel-sind-meine-daten-wert-social-media and https://www.datawrapper.de/_/2Xfj6/
Sources
Average daily screen time per platform in minutes: eMarketer (2017-2022), Digital 2022: Global Overview Report

Average Revenue per User (ARPU): Facebook: Meta Earnings Presentation Q2 2022), Instagram: extrapolation based on Insider Intelligence, Datareportal "Instagram Statistics and Trends", TikTok: Insider Intelligence/ eMarketer, Twitter: Insider Intelligence/ eMarketer, Youtube: extrapolation based on seekingalpha, Quartaly report alphabet Q2/2022, Insider Intelligence und Digital 2022: Global Overview Report, Snapchat: Quarterly report Snap Inc. Q4/2021
About heyData: heyData is a leading data protection and compliance company headquartered in Berlin, Germany. Digital data protection solution by the heyData platform helps customers maintain an overview in data protection and fulfill their data protection tasks. Via the platform, heyData audits its customers, trains employees and provides the documentation required in data protection. Website: www.heydata.eu