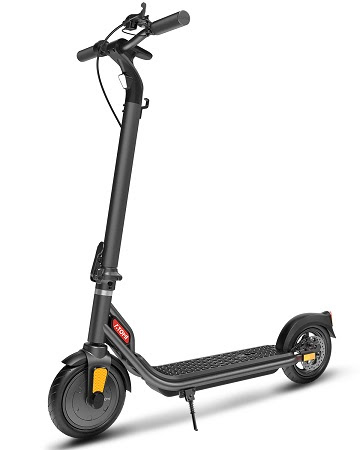 Atomi Launches an Affordable Electric Scooter Called Atomi E20
Atomi, an electric scooter manufacturer and micro-mobility industry expert, announced the release of Atomi E20 today. The motorized scooter comes at an affordable price and entry-level features supported by smart technology. The competitively priced Atomi E20 enables riders to commute effectively without breaking the bank. The foldable Atomi E20 is designed to provide an eco-friendly and flexible mode of transportation at a price point attractive even to the most budget-conscious consumers. Even though the product is aimed at novices, the new micro-mobility solution is built to an Atomi quality level and comes with impressive features.
The Atomi E20 is the first scooter of the Atomi essential series. The new series of scooters offers smooth rides and an exceptional price/performance ratio without compromising on quality or high-standard reliability. The e-scooter comes with a sturdy 500W brushless motor that lets riders enjoy safe yet exciting levels of acceleration and torque. The Atomi E20 comes in a compact design with a durable structure able to carry a maximum load of 265 lbs.
With its lightweight, the 36V 7.5Ah 270WH battery helps riders to go on a daily commute or a long journey with a range of up to 18.6 miles on a single charge. In addition, the Atomi E20 features a dual-braking system with a rear disc brake that ensures efficient and safe travel while enjoying top speeds of up to 15 mph. The E20 e-scooter is easy to carry and only takes three seconds to fold using an automatic locking mechanism.
Atomi E20 also comes with sufficient eight-and-a-half-inch wheels and a large LED display. In addition, e-scooter novices can operate the scooter in three-speed modes that allow scooting at approximately 3.7, 11, and 15.5 mph. As usual, Atomi leads with safety first – the E20 scooter has a bright lighting system consisting of a front LED and brake tail lights. The new scooter by Atomi can be fully customized using the Atomi app available on Apple's App Store and Google's Play Store. The Atomi app offers riding records, battery level, distance, cruise control, and navigation access. It also provides app locking.
"The launch of Atomi E20 is an official invitation for everyone to explore the micro-mobility world at an affordable price," said Carol Young, co-founder of Atomi. "Even though the new electric scooter is competitively priced, the components of Atomi E20 and the finished product are fully certified to the highest safety standards. The product offers all the key features novice riders need most. We are excited to see this long-anticipated entry-level scooter in the hands of the consumers."
Atomi E20 comes in black. The electric scooter manufacturer offers free next-business-day shipping with delivery in 5-8 business days. Atomi also accepts returns on unused scooters within 14 days of delivery and provides a 12-month warranty.
Atomi E20's MSRP is $399, discounted to $299, and well-stocked for the back-to-school season and upcoming holidays. The product is available on Amazon and Atomi's official webpage and will soon be available on other US retailers.
More information about Atomi E20 is available at atomiscooters.com.