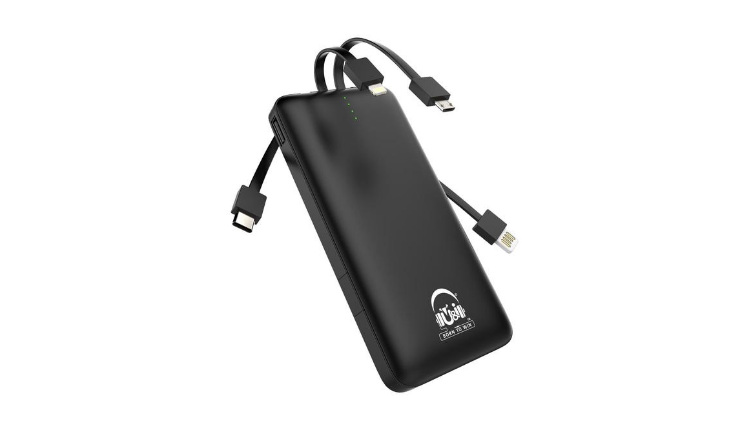 U&i 'Check', an All-New 10000 mAh Power bank with 4 in 1 Inbuilt Charging Cables
New Delhi, August 19, 2020: U&i, India's leading Gadget Accessory and Consumer Electronics brand that specializes in Bluetooth Speakers and Headphones, Chargers, Cables, and many other nifty gadgets has launched its all-new Power Bank "Check", a new addition to their already existing and strong line-up of Power Banks in India. Check power bank is a combination of style and utility. With its impeccable design and built-quality, it can easily slip into your pocket as compared to other bulky power banks.
Check is a 3rd generation power bank and is made using a superior quality alloy plastic shell which makes its dust and shockproof. Apart from this, it boasts of an inbuilt intelligent safety system that protects the device from overcharging, overheating and eminent short circuits.
With a battery capacity of 10000 mAh it comes equipped with an LED battery indicator. Check can charge your devices at a faster speed with its quick charging feature. One can also charge/connect up to 5 devices of 5V simultaneously. The most unique feature of Check power bank is its 4 in-built charging cables with Type C, Micro, V8 and Lightning connectors.
Check comes with a high-quality Lithium Polymer Battery. The newly launched Check is available in shiny black color that can complement any of the connected devices.
Speaking on the launch, Paresh Vij, Founder, and Director, U&i commented "U&i has launched Check, value for money device for our users with an unmatched quality. Through this launch, we are expanding our power bank range and we'll be looking forward to launching superior and innovative products in the coming days."
Features:
LED Indicator
 Fire, Dust and Shock Proof
Pocket Size and light-weight
10000mAh Battery Capacity
In-built 4 charging cables with Type C, Micro, V8 and Lighting connectors
1 Input ports (Micro)and 4 Outputs with 5V devices compatibility
Available in Shiny Black color
Pricing and Availability:
U&i Check (Black colour) power bank is available at an introductory price of INR 2,799/- and can be bought from all the leading retail stores & e-commerce platforms.
About U&i:
U&i World is the leading Gadget Accessory & Consumer Electronics brands, hopping portal offering a stimulating online shopping experience. We at U&i are dedicated to bringing in the latest and unique gadgets to India. A one-stop shop for the latest range of electronic products and gadgets at a very competitive price.
For more information, kindly visit https://uandiworld.com/