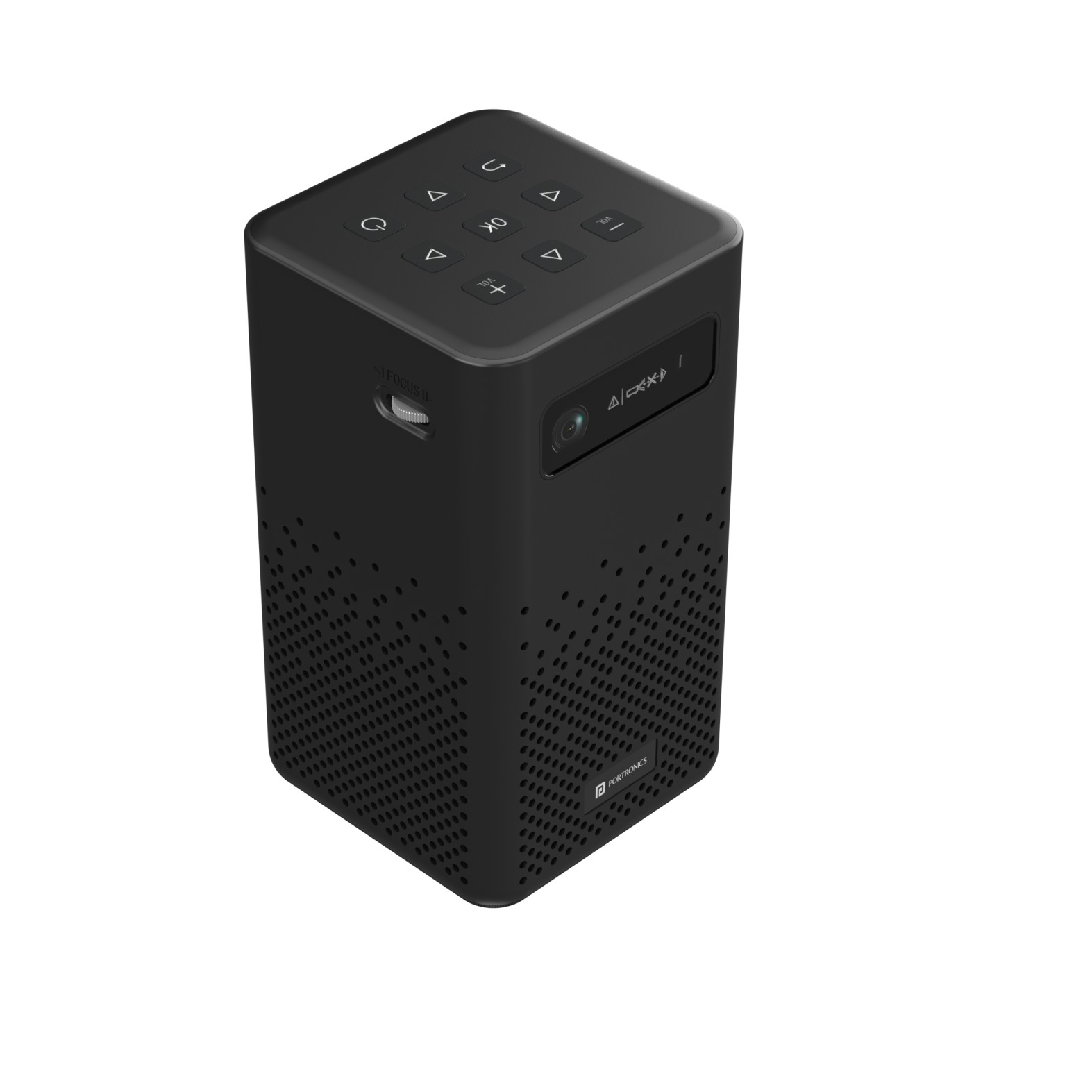 Portronics Launches Smart Music LED Projector 'Pico 10'
Portronics, a prominent name in the portable and innovative consumer electronics market, is proud to announce its next stunning offering – the Pico 10. This compact Smart Music LED Projector is a small wonder that can create big effects wherever it's switched on. Loaded with features, the Portronics Pico 10 can convert any space into an entertainment zone, a movie theatre or a classroom.
Crammed with some of the latest technologies the Portronics Pico 10 is an extremely compact and highly portable LED projector combined with a stereo wireless music system. Featuring a powerful 280 Lumens LED lamp, and powered by Android 9.0, the Pico 10 can project images and videos up to a super large 150 inches on any surface. With immense clarity and details, the mini projector can produce up to 480p resolutions with distortion-free images and videos. Thanks to the Android OS and built-in Wi-Fi network, you can take your Netflix, Hotstar, YouTube and almost every entertainment app with you, wherever you go.
To add some extra oomph, the Portronics Pico 10 also clubs in a stereo 5W wireless speaker system to enable a larger than life entertainment hub. Making things simpler to operate, the Pico 10 features keystone corrections to ensure the perfect dimensions when focusing on a wall or screen from various angles. With options for auto and manual keystone corrections, you can take complete control of where you want your work or entertainment to begin. Start a movie hub on your lawn or gather your kids for an instant classroom wherever you want – the Portronics Pico 10 is ready for action.
Features that make the Portronics Pico 10 stand out, even more, are its multiple interface options. Stream content directly from its HDMI Port or wirelessly using Miracast, or simply playback some movies or music using a USB pen drive, AUX or Bluetooth – it's as easy as a cakewalk. Turn your room into a mini theatre or start an instant party whenever you need it – the Pico 10 is here to entertain. Why not take it a step further, Plugin your gaming console (Xbox or PS3/4) and create a surround sound gaming arena effect for a very aesthetically pleasing gaming experience. All you need to do is sit down, relax and control the Portronics Pico 10 using the fully functional IR Remote or take charge with its onboard full-function keypad.
Lastly, you can take your music and movies anywhere. Packed with a large 5200mAh rechargeable battery, you can get a whopping 160 minutes of continuous non-interrupted binging. So get your friends and family together, plan out some outdoor nights almost everywhere and enjoy some of the best movies and shows while working up a good campfire meal.
The Portronics Pico 10 Smart Music LED Projector is priced at just INR 29,990 and is available on Amazon.in, Company's official website, and other leading online and offline stores This Product is backed with a 12-month warranty period.
About Portronics India:
Portronics, standing for Portability and Innovation, has been a market leader in the digital & portable consumer electronics market space in India, for a long time now. A pioneer in innovative technology for the Indian demographic, Portronics has been touching and transforming the lives of its customers, by continuing to the tech space with new, quality gadgets. A firm believer in the power of good user experience, Portronics is synonymous with portability and high-functioning designs, due to an innovative product base and consumer satisfaction. With a PAN India presence, Portronics has been successfully delivering innovation at your doorstep for over 10 years and is constantly working up the ladder of transformation.
For more information, kindly visit http://www.portronics.com/