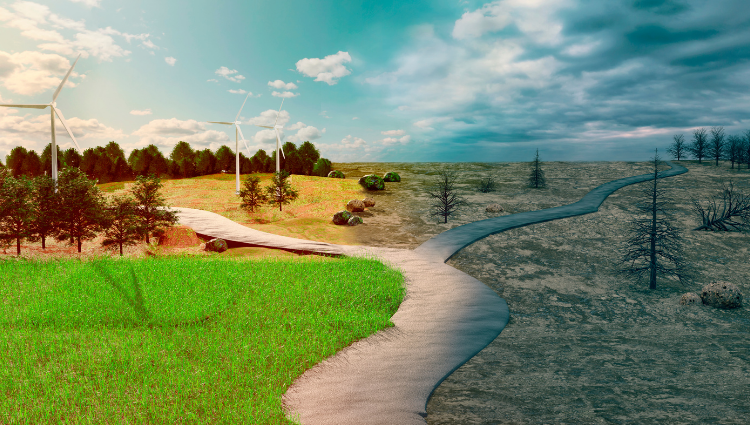 Peatland reveals remote community survived a millennium of environmental change
A seemingly remote community in Northern Ireland was able to survive a millennium of environmental change by adapting social conditions to remain resilient, researchers from Queen's University Belfast have found.
Throughout history, many societies have been severely impacted by climate change, natural disasters and other dramatic ecological shifts. However, it's much more difficult to determine the long-term effects of environmental disturbances such as climate change, extreme weather events or pandemics.
In a study of the Antrim Plateau, scientists from the School of Natural and Built Environment at Queen's analysed a peat core from a site called Slieveanorra to examine environmental and community changes over a thousand years.
They also examined data from microbes, natural plants and crop plants and carried out fine-scale dating with volcanic ash layers, organic remains and historical accounts.
In contrast to the abandoned character of the area today, the study found evidence of local farming through much of the last millennium. Interestingly, the experts found that there was no evidence of long-term disruption to the community due to environmental changes and they think this was down to the community being flexible and adapting their approach to agriculture and trade.
Dr Gill Plunkett explains: "These results reflect a community that was able to either escape the effects of environmental change, or to rebound quickly. This surprising resilience from a relatively remote occupation was likely the result of social and economic factors – such as broad-based farming practices and cottage industries – which made the community flexible and adaptable.
"In the face of environmental change, not all human communities respond the same way, and how well a community can respond is largely linked to social conditions of each respective population. Understanding this complexity is key to understanding what conditions make communities vulnerable to cultural collapse in the face of environmental change."
Professor Graeme Swindles says: "This study shows us how important our peatlands are for understanding the past as they are natural time capsules preserving records of both human and environmental change. Peatlands are also important carbon stores, habitats and help alleviate flooding by 'slowing the flow'. Our peatlands must be conserved and protected at all costs."
The full research findings have been published in the open—access journal PLOS ONE.