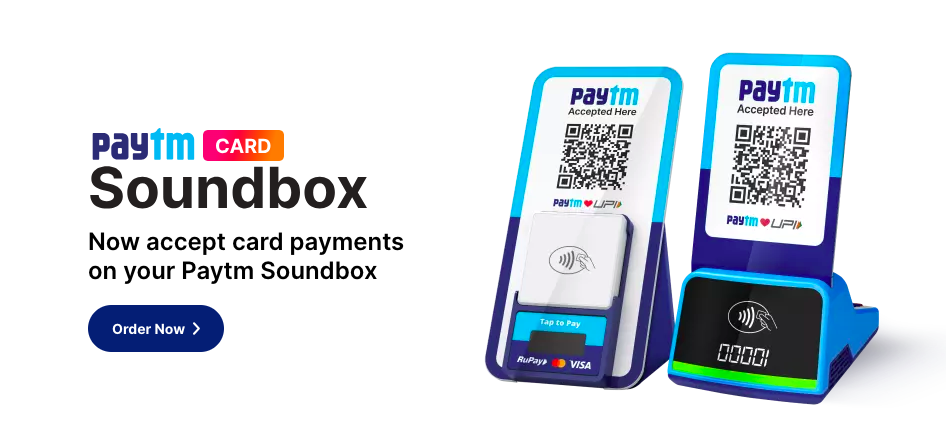 Paytm Card Soundbox & QR Code Scanner
More than 10 Million businesses trust Paytm for their payment. Paytm for Business app is the fastest & easiest way to collect payments from customers. If you are a merchant, run a small business, a startup, a freelancer, a shop or a delivery service; then accept payments for your business from millions of Paytm customers.
Accept payments using any UPI app, Debit/Credit Card, Net-banking & Paytm Wallet. Merchants can also accept payments from mobile number, QR code or card machine.
India's first Soundbox with Card payments is here to revolutionize payments! The contactless 'Tap and Pay' will enable merchants to accept both mobile & card payments with ease, a tap at a time.
With this cutting-edge solution, merchants can seamlessly accept payments from both mobile and card transactions, covering a wide range of networks including Visa, Mastercard, American Express, and RuPay.
This device simplifies the payment process, allowing users to initiate quick and convenient "tap and pay" transactions. What sets it apart is its unique audio-based confirmation system, providing real-time feedback to both users and merchants, ensuring secure and reliable payment reception.
The Paytm Card Soundbox is a versatile and portable device that offers a host of convenient features. With a robust 4W speaker, it delivers impressive sound quality. It boasts a remarkable battery backup of up to 5 days, ensuring uninterrupted usage without frequent recharging. The device has 4G connectivity with Type C compatibility, and the added LCD provides clear and easy-to-read information.
For more information, visit: https://business.paytm.com/soundbox-devices