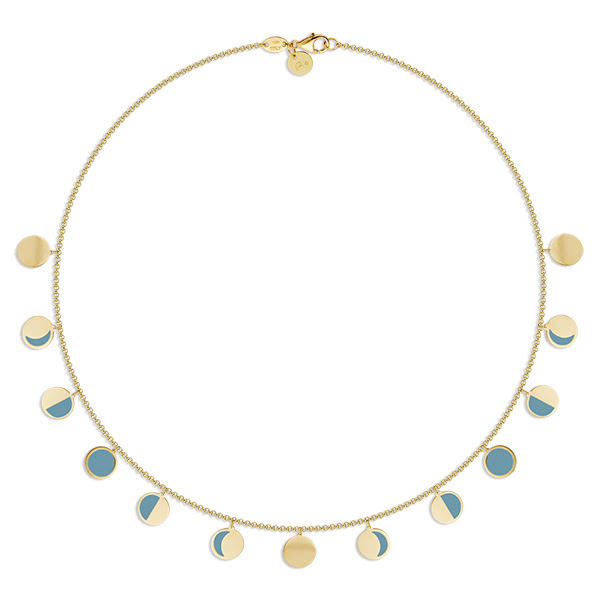 Delphine Leymarie Confetti Lune Collection Elevates Celestial Fine Jewelry
For the French, knowledge and appreciation for the magical and spiritual are deep-rooted. Steeped in a culture renowned for art and artists, the moon is one of its most beloved and sacred ancient symbols. New York City-based French Designer and Founder, Delphine Leymarie, draws inspiration from the moon's ethereal nature, introducing sophisticated fine jewelry that captures its mystery, with the Confetti Lune Collection.
"A multilayered celestial symbol of love, dreams and hopes, the Moon — La Lune in my native French, also represents our shadow self and our unconscious. Just like the moon, we go through many cycles, the sum of which makes who we truly are. La Lune mirrors the strength of the sun, reflecting its light on us in a gentler glow," says Designer, Delphine Leymarie. "It helps us navigate our own unique journey through the complex terrain of life, softly illuminating its peaks and lows and accompanying us through the ebb and flow."
The moon-phase inspired Confetti Lune collection offers eight sublime necklace styles, and four alluring bracelet designs. An update to the best-selling Confetti necklace, Delphine Leymarie Fine Jewelry introduces a unique and poetic sequence of moon-phase cut outs to Lune, with a full moon center, or an optional new moon center, to connect the beautiful Boheme clicker and collectible charms. Both the necklace and bracelet are available in solid 14K or 18K gold, with mother of pearl (Blanche), turquoise (Bleue), or onyx (Noire) inlay, and are crafted out of 8mm solid gold discs. The Confetti Lune Sequin Necklace offers a streamlined version, with a stunning juxtaposition of sparkling Moon phase discs dancing from the rounded cable chain. The yellow gold dots on both the necklace styles and bracelet refract the sparkling sunlight, much like the moon reflects the sun.
"As a ruler of tides, the moon is essential to life on earth. Its cycle helps us focus on our intentions, plant their seeds, sustain their growth, and reflect & repeat," says Delphine Leymarie. "The Confetti Lune Collection is about cherishing the many phases of you, for they all reflect your many facets."
With a collection that encourages all to embrace their inner alchemist, Delphine Leymarie Fine Jewelry delivers a timeless and iconic design to an ever-inspiring symbol. Whether celebrating a milestone, new beginnings, the holiday season, or just because, Confetti Lune channels elegance, offering unique customizable options for an empowering stack, or modern heirloom. "Say 'I love you to the moon and back' with jewelry," says Delphine Leymarie.
For more information about Delphine Leymarie Fine Jewelry, visit delphineleymarie.com
About Delphine Leymarie Fine Jewelry
French-born, Delphine Leymarie designs luxe and modern eponymous fine jewelry line in NYC. Drawing inspiration from the blissful beaches of her childhood in the South of France, and the invigorating energy of modern urban architecture, she creates jewels that are timeless, romantic yet edgy, and playfully convertible.
Delphine Leymarie Fine Jewelry collections are centered around the signature Boheme Clickers, versatile modular charm holders, which make the jewels as unique as the wearer. She favors empowering and protective symbols, paired with carefully selected gems, to create uplifting and colorful jewelry. Delphine dreams up pieces as powerful talismans and modern heirlooms to be cherished for generations. Using recycled gold whenever possible, Delphine Leymarie sources her gems ethically, respectful of the magnificent resources of the planet. Mindful luxury is possible, and Delphine Leymarie Fine Jewelry aims to create sparkly sculptures that can adorn the body and elevate the soul.