A Personal Review of Home Centre
In a time where shopping should be easy and focused on making customers happy, our recent encounter with Home Centre left us amazed at how things went wrong. We're all about giving honest feedback based on real experiences, and sadly, our meeting with this brand didn't go well.
Taking a Closer Look at the Brand:
Home Centre is supposed to be the go-to place for comfy and reliable stuff for our homes. But we started to wonder if they're doing things the right way. Right from the beginning, we noticed that their technology isn't great and their way of taking care of customers wasn't impressive at all.
Dealing with Technical Problems and Customer Care:
It all started when we ordered the Helios Judy Folding Study Desk – Brown on August 9, 2023. They told us it would arrive by August 26, 2023, according to the message from Home Centre's official WhatsApp account. But as the date got closer, we got more frustrated because the order didn't show up when they said it would. And now the new delivery date is September 2, 2023.
A Series of Letdowns:
Here's what happened that shows how Home Centre fell short:
Not Keeping Us in the Loop: They didn't send us updates about the order through WhatsApp or email. Even though 18 days passed, the order was still shown as 'packed' and not going anywhere.
Trying to Cancel Was a Hassle: When we tried to cancel the order on August 15, 2023, it was a struggle. They said it was already invoiced and would be shipped soon, so we couldn't cancel it.
No Help on Social Media: We messaged them on Twitter, but they didn't reply for over 8 hours.
Emails Ignored: Even when we emailed them through the Tracking and Delivery option given on their website, we got no response. Our questions just went unanswered.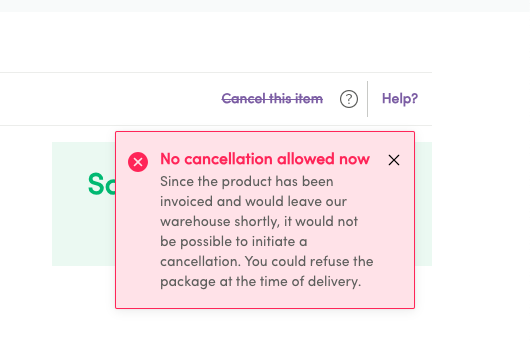 A Disappointing End:
Our experience with Home Centre was disappointing in many ways:
Customers Left in the Dark: Home Centre didn't bother telling customers if orders were late, showing they don't really care.
Messing Up with Technology: A brand that should be smooth and efficient struggled with technology problems.
Ignoring Customers: Their customer care didn't seem to care at all, ignoring our concerns.
Final Thoughts: A Missed Chance:
Home Centre could have impressed us, but they let us down. If you're thinking about shopping there for your home stuff, be careful. They're not great with technology, customer care, or telling you what's going on.
Based on our experience, it's advisable to steer clear of shopping from Home Centre if timely product delivery is your priority. We will update the product quality review as soon as we receive the product.
Disclaimer: This review is based on our actual experience and reflects our honest opinion.